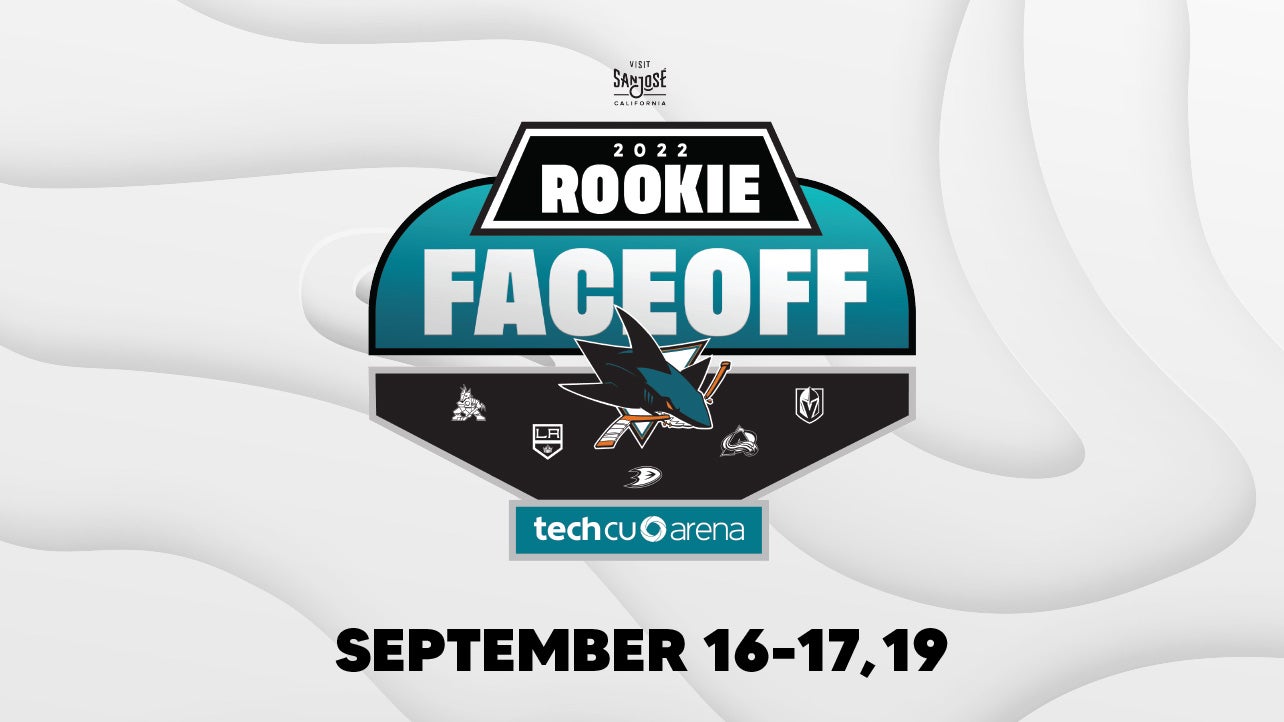 2022 ROOKIE FACEOFF SCHEDULE ANNOUCED
The San Jose Sharks today announced the dates for the upcoming 2022 Rookie Faceoff.
Jul 11, 2022
San Jose, California - The San Jose Sharks today announced the dates for the upcoming 2022 Rookie Faceoff. The tournament will be played at the Sharks practice facility in San Jose with many of the games taking place at the new home arena for the San Jose Barracuda: Tech CU Arena. The brand-new state of the art arena is expected to open early August, and this will be the first major event it sees.
The 2022 Rookie Faceoff is slated to take place Sept. 16-19 and features nine games scheduled between four teams from the Pacific Division (Anaheim, Los Angeles, San Jose and Vegas) and two from the Central Division (Arizona and Colorado). The tournament will feature top prospects from all six clubs and was last hosted by Arizona in 2021.
Each of the three days includes two games at Tech CU Arena, the new home of the San Jose Barracuda, and one game on the Sharks Ice Orange Rink.
On Friday, Sept. 16, the Los Angeles Kings, and Colorado Avalanche will kick things off at 2 PM with the first game from Tech CU Arena, followed by a 4:30 PM game between the Vegas Golden Knights and Arizona Coyotes over at Orange Rink. The first night will conclude with the Anaheim Ducks and San Jose Sharks back at Tech CU Arena for a 7 PM tilt.
Saturday, Sept. 17, will see Los Angeles and Vegas with the first game of the day at 2 PM at Tech CU Arena, with Anaheim and Arizona at Orange Rink with the 4:30 PM game. Colorado and San Jose will close out day two at 7 PM from Tech CU Arena.
Monday, Sept. 19, starts with a 10 AM game between Colorado and Arizona at Tech CU Arena. The second game of the day will feature Anaheim and Vegas at 12:30 PM on Orange Rink. The final game of the 2022 Rookie Faceoff will see Los Angeles take on San Jose with a 3 PM puck drop at Tech CU Arena.
Day Passes (which give you access to all 3 games for the day) are available now! You can purchase day passes here.
Fans will have access to Calder's, the brand-new restaurant opening alongside Tech CU Arena. In addition, fans can buy food and drinks at the many concessions stands situated around the arena.
Parking on site at Tech CU Arena is extremely limited. Overflow parking is available for purchase at San Jose State University parking garage, located across E. Alma ave.
View the full schedule down below:

Back to All