BARRACUDA ANNOUNCE 2022-23 TEAM AWARD WINNERS
Apr 19, 2023
San Jose, Ca – The San Jose Barracuda (@SJBarracuda), proud American Hockey League (@TheAHL) affiliate of the San Jose Sharks (@SanJoseSharks), announced today the individual team award winners for the 2022-23 season as selected by the players and Barracuda Hockey Operations Department.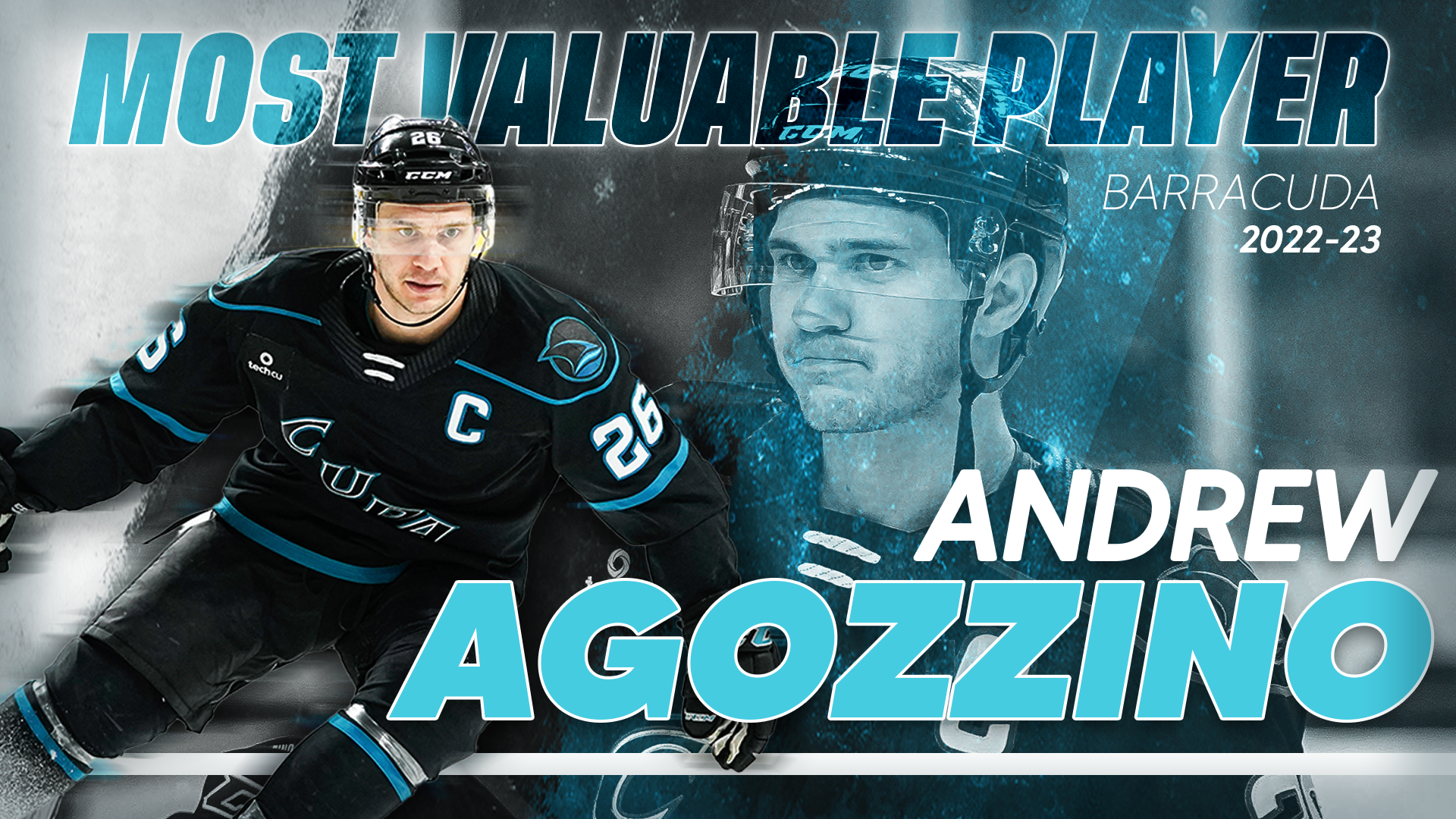 Barracuda Most Valuable Player: Andrew Agozzino
In his 11th professional season, and first within the Sharks organization, Andrew Agozzino put together one of the best statistical campaigns in Barracuda franchise history, setting new single-season team watermarks in goals (26) and points (61). Additionally, he led the club in assists (35), power-play assists (13), was T-first in shorthanded goals (2), and T-second in game-winning goals (3). In addition, the Kleinburg, Ont., native skated in four games with the Sharks, notching a goal and two assists.
On Dec. 4, 2022, Agozzino netted his 199th and 200th AHL goals, propelling the Barracuda to a 4-3 overtime win against the Tucson Roadrunners. On Mar. 4, 2023, he collected his 500th career AHL point as he scored in a 5-4 loss to the Coachella Valley Firebirds.
After suffering an upper-body injury on Jan. 6, which caused him to sit out five games, the veteran forward returned to the lineup and notched 35 points (16 goals, 19 assists) in his final 29 outings. From Feb. 11 thru Mar. 8, he recorded a point in nine straight games (six goals, seven assists), the second longest point streak in franchise history.
Agozzino joins John Leonard (2021-22), Alex True (2020-21, 2018-19), Maxim Letunov (2019-20), Antoine Bibeau (2017-18), Troy Grosenick (2016-17) and Ryan Carpenter (2015-16) as winners of the team's MVP Award.
Barracuda Rookie of the Year: William Eklund
Also the winner of the Sharks Rookie of the Year Award, William Eklund finished his first professional season in North America with 41 points (17 goals, 24 assists) in 54 AHL games. In addition, he skated in eight games with the Sharks, scoring twice and adding an assist. The seventh overall pick in 2022 ranked first among team rookies in helpers, points-per-game (.76), and T-first in power-play goals (9). Among league rookies, the Haninge, Swe., native finished T-third in power-play goals.
Eklund, who did not play in the final 10 games of the year due to injury, joins Nick Cicek (2021-22), Brinson Pasichnuk (2020-21), Joachim Blichfeld (2019-20), Josef Korenar (2018-19), Rudolfs Balcers (2017-18), Danny O'Regan (2016-17) and Nikolay Goldobin (2015-16) as winners of the team's Rookie of the Year award.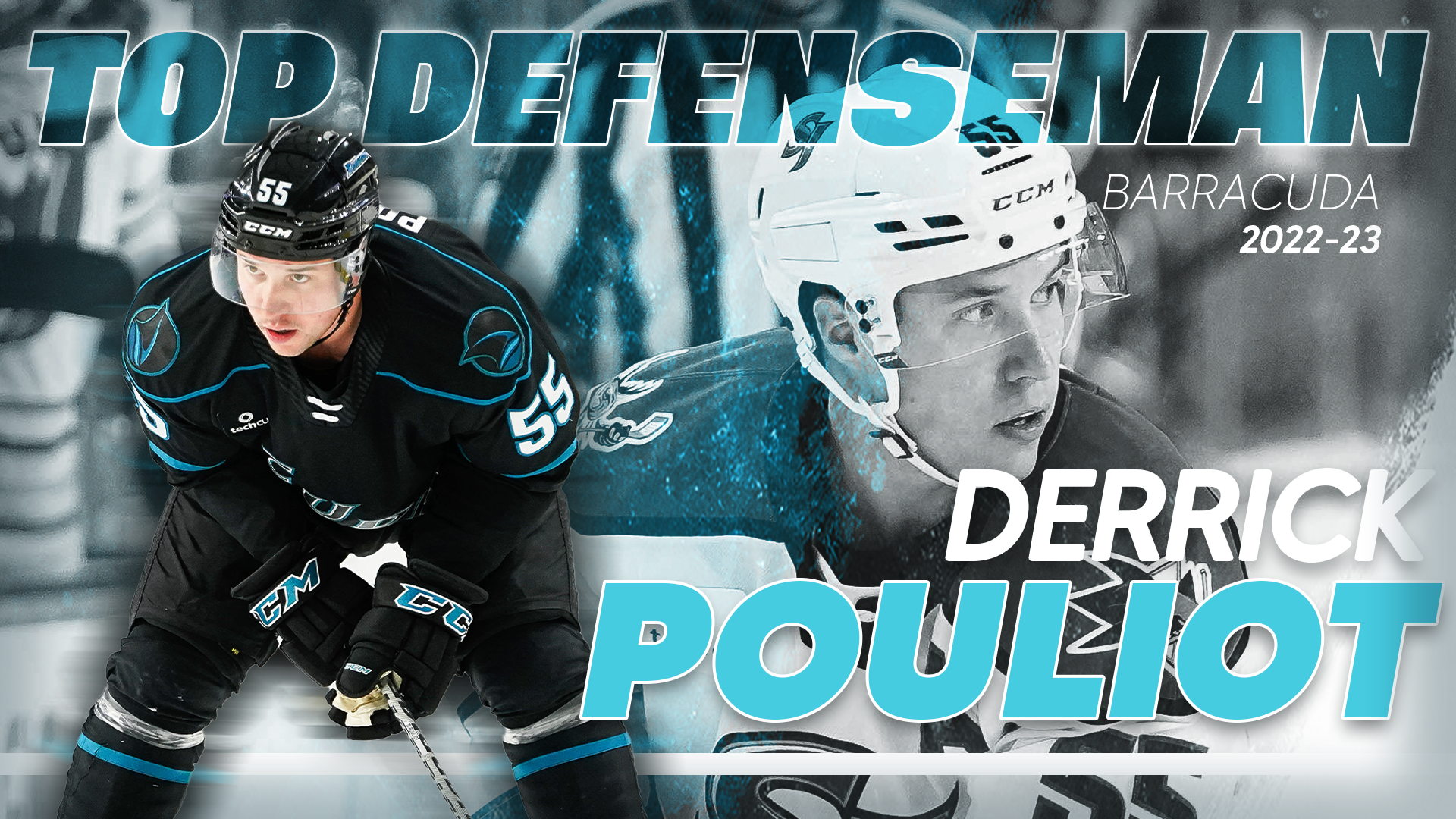 Barracuda Top Defenseman: Derrick Pouliot
In his first season with the Barracuda, Derrick Pouliot led all blueliners in points-per-game (.68), power-play goals (3) and finished second in goals (4), assists (21) and points (25).
The native of Estevan, Sask., missed 24 games from Nov. 16 to Jan. 14 with an upper-body injury. In his absence, the Barracuda went just 8-16-0-1 and the penalty kill went from 91% (55/60) to 74% (145/181) during that stretch. On Mar. 2, he signed a one-year deal with the Sharks and went on to appear in eight games with the big club, collecting two assists.
Pouliot joins Nick Cicek (2021-22), Jacob Middleton (2020-21) and Trevor Carrick (2019-20) as winners of the Top Defenseman award which was established in 2019-20.
John McCarthy Leadership Award: Andrew Agozzino
In his first season in San Jose, Andrew Agozzino donned the "C" as the team's fourth captain in franchise history, replacing Jaycob Megna who wore it in 2020-21. The award was named after Barracuda head coach John McCarthy who was forced to retire due to health reasons in 2019. Agozzino joins Sasha Chmelevski (2021-22), Megna (2020-21), and Jeff Viel (2019-20) as the winner of the award which was established in 2019-20.
The John McCarthy Leadership Award is annually presented to the player who displays incredible leadership qualities on the ice, amongst his teammates and within the community, through his preparation, hard work, character and inclusivity.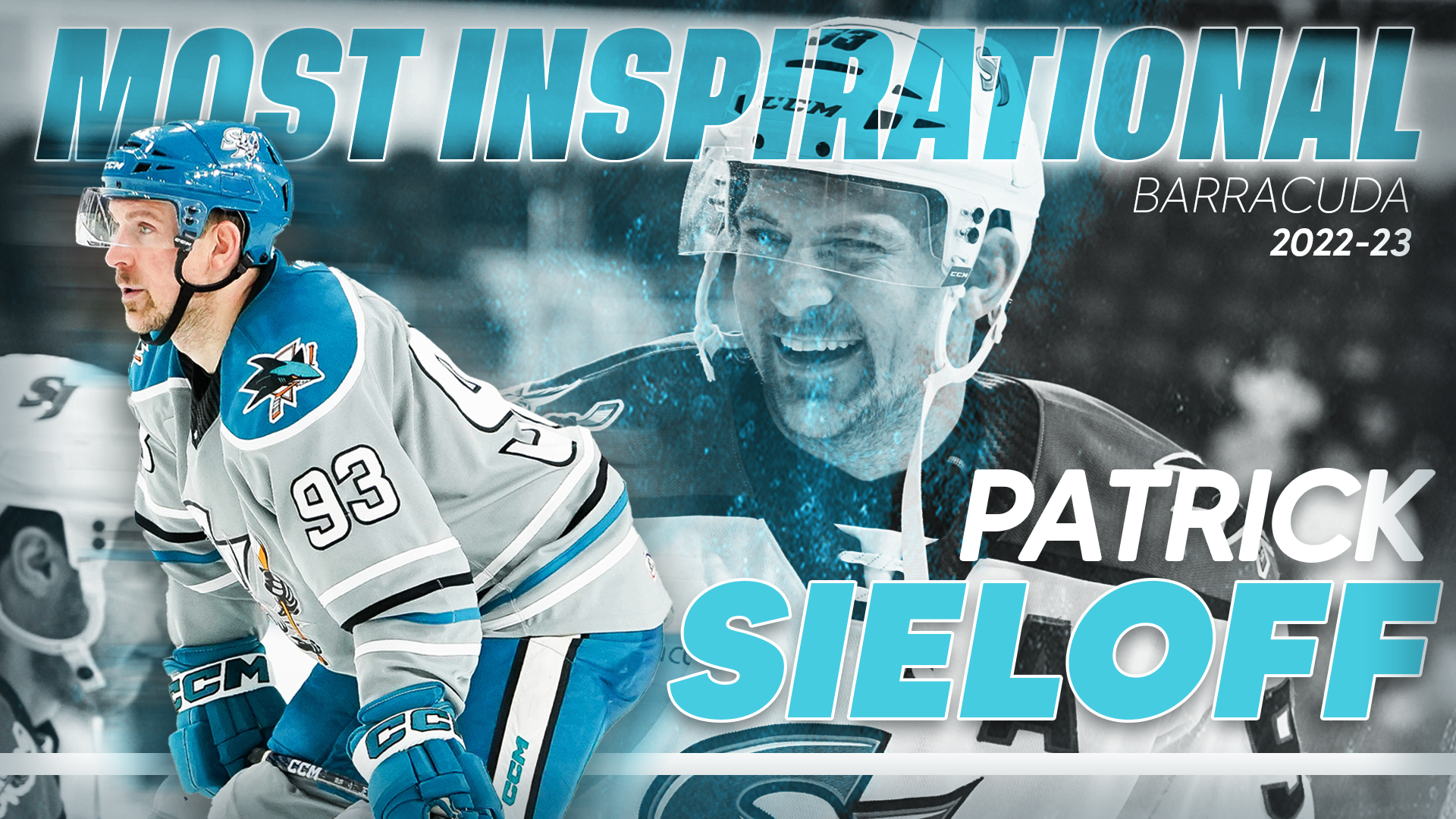 Roy Sommer Most Inspirational Award: Patrick Sieloff
An unlikely cog to the team's backend, Patrick Sieloff provided a steadying presence to one of the youngest defensive corps in the AHL. Originally signed to a professional tryout in training camp, Sieloff was the only player to appear in 71 or more games this season and finished with a team-best plus-10 rating. The nine-year-pro was given the team's season finale off or he would have become the first player to appear in every game since Jaycob Megna skated in all 36 of the team's contests during the shortened 2020-21 season. With the Pacific Division's expanded regular season in 2022-23, Sieloff became the first player in franchise history to skate in more than 68 games in a year. Among defensemen, he ranked T-third on the club in assists (13), points (14), first in penalty minutes (77), second in shots (81), and T-first in overtime game-winners (1).
Sieloff joins Adam Raska (2021-22), Brandon Coe (2019-20), Manny Wiederer (2019-20), Jeff Viel (2018-19) and John McCarthy (2016-17, 2017-18) as winners of the award, which was implemented following the 2016-2017 season.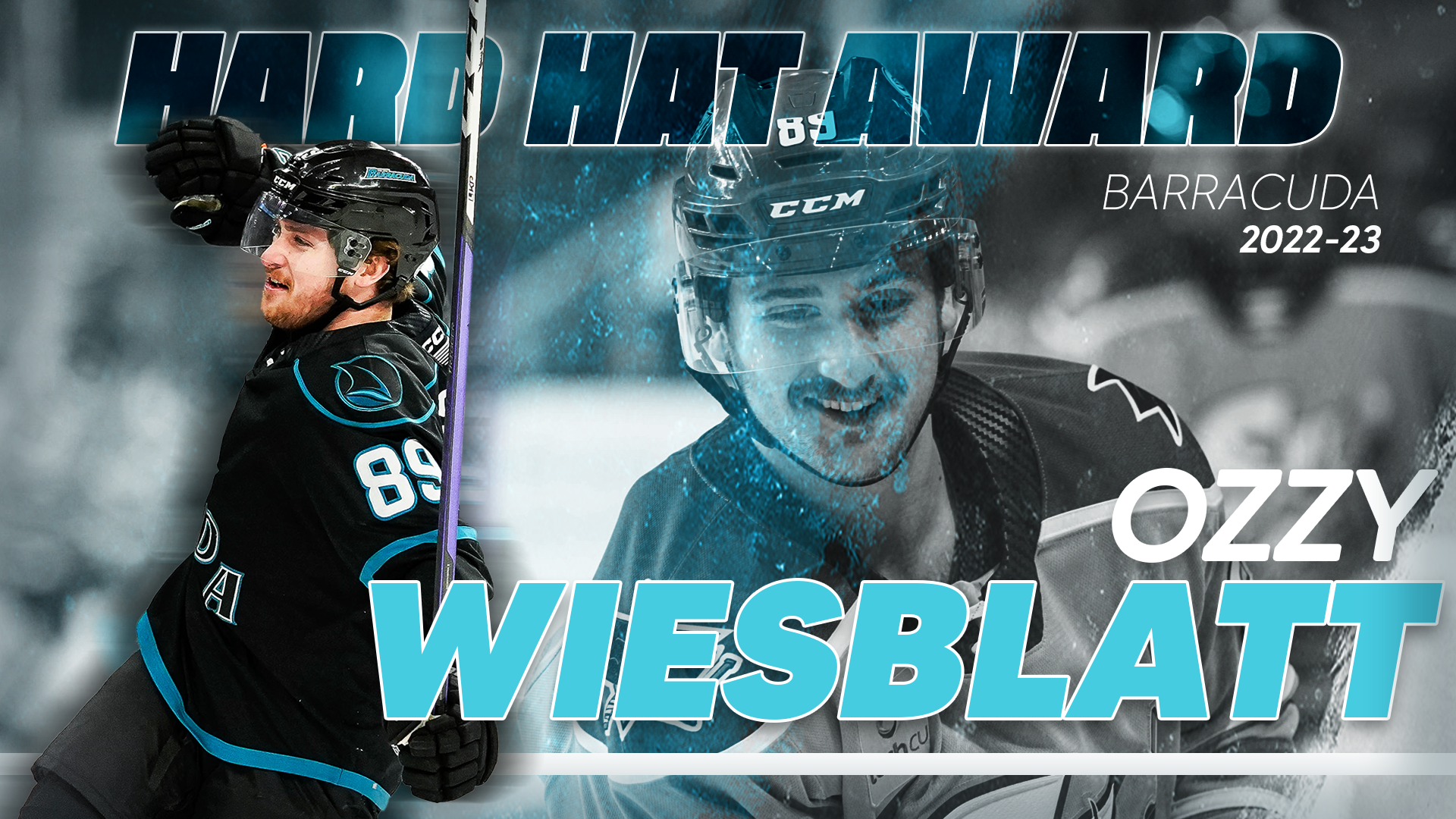 Hard Hat Award: Ozzy Wiesblatt
After sitting out the team's first nine games, Ozzy Wiesblatt became a regular in the Barracuda lineup in the second half of the year, playing a rugged, hard-hitting style. The rookie forward scored in his season debut on Nov. 10, 2022 against Ontario and would notch his first professional hat trick on April 5, 2023, at San Diego in a 6-3 win. Among team rookies, he led the team in shooting percentage (14.0) and ranked third in penalty minutes (30).
Wiesblatt, the Sharks' first-round pick in 2020, becomes the inaugural winner of the team's Hard Hat Award, which is given to the player who, night in and night out, brings a blue-collar and hard-nosed style that inspires and uplifts the team.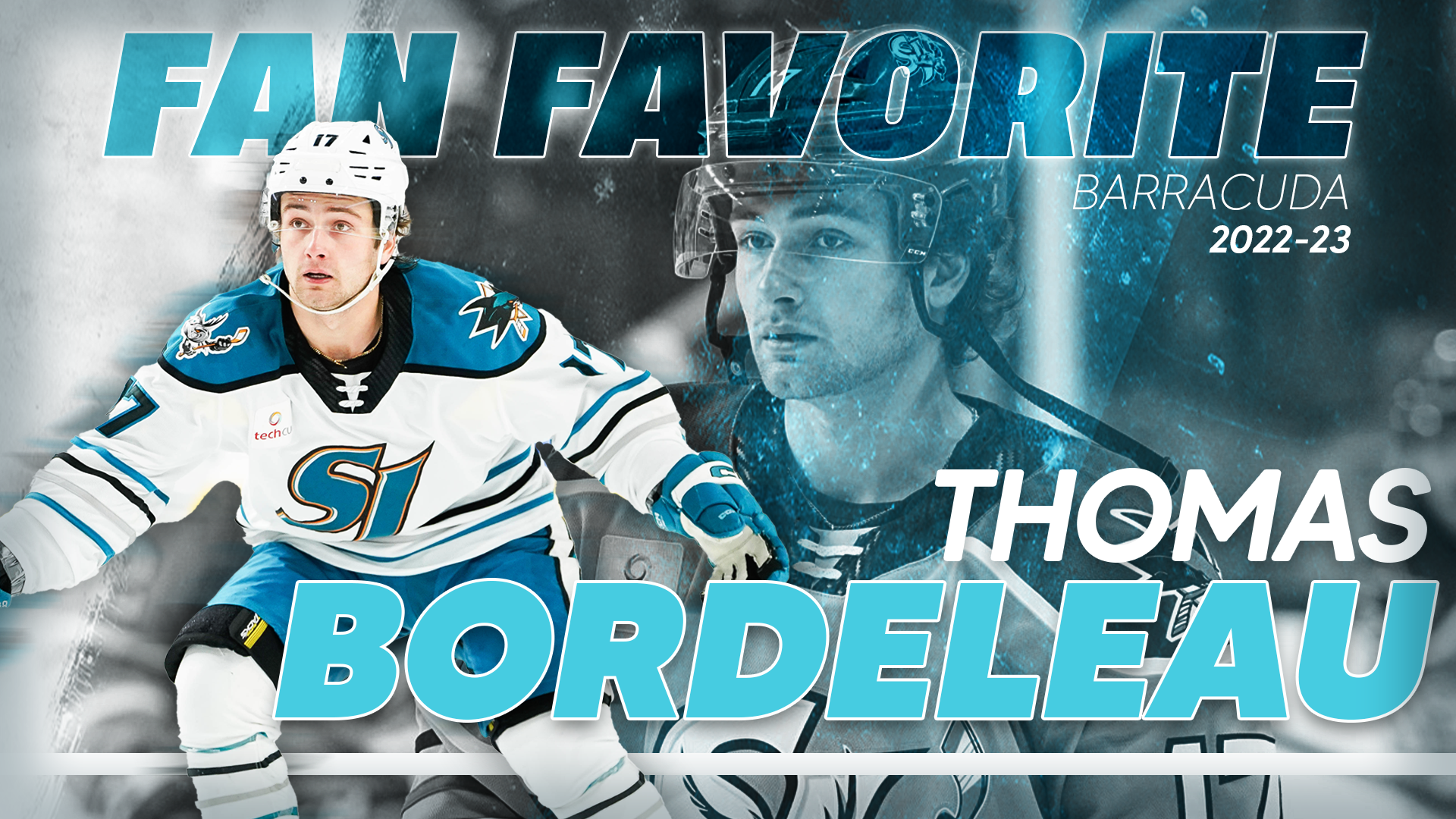 Fan Favorite Award: Thomas Bordeleau
Thomas Bordeleau concluded his impressive rookie season with 41 points (22 goals, 19 assists) in 65 games. Among Barracuda skaters, he ranked first in power-play points (23), T-first in power-play goals (9), second in shots (160) and power-play assists (14), and T-second in goals. Bordeleau was the team's lone representative at the 2023 AHL All-Star Classic in Laval, Que., helping the Pacific Division win the AHL All-Star Challenge.
Bordeleau, who also skated in eight games with the Sharks near the end of the year, collecting a pair of assists, is the Barracuda's inaugural winner of the Fan Favorite Award. The Fan Favorite Award, as voted on by the fans, is given out to the player most beloved for his in-person and social engagement with fans and his willingness to help grow the team's brand in the community through team and charitable events.
#SJBarracuda
Back to All