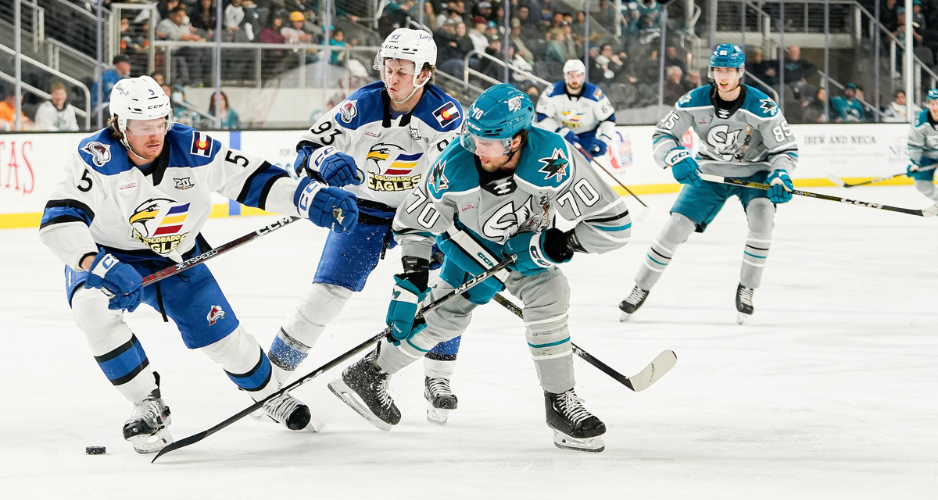 BARRACUDA DROPPED BY EAGLES, 4-3 IN OVERTIME
Apr 7, 2023
San Jose, CA - The San Jose Barracuda (29-33-2-5) fell 4-3 overtime against the Colorado Eagles (37-22-7-3) on Friday at Tech CU Arena.
The Eagles applied early pressure in San Jose's zone resulting in a first score by Wyatt Aamodt (3) at 1:15. The Barracuda responded with a power-play goal at 9:17 when Derrick Pouliot (4) sniped the puck through Keith Kinkaid to tie the game. Colorado took the lead in the late stages of the first after Cedric Pare (9) found Mitchell Vande Sompel (3) wide open in front of the net for the goal at 17:58.
In the second period at 13:44, Nathan Burke (3) tied the game up after pickpocketing the puck from Kinkaid behind the net and shoveling it in. San Jose took the lead late in the second period when Shakir Mukhamadullin (1) took a couple of shots through traffic to finally get it through the five-hole of Kinkaid for his first AHL goal.
The Eagles made it an even game once again after a ricocheted puck shot by Sam Malinski (2), made it through Aaron Dell at 5:41 in the third.
Tied at three, the game was sent into overtime. After a failed rush from the Barracuda, the Eagles attacked with a two-on-one rush where Mikhail Maltsev (10) cashed in the game winner.
Vande Sompel (1+1=2) and Alex Galchenyuk (0+2=2) finished with two points each for Colorado.
Kinkaid (12-10-4) made 22 saves in the winning effort against 25 shots. Dell (15-16-4) stopped 35 shots against 39 in the loss.
Back to All