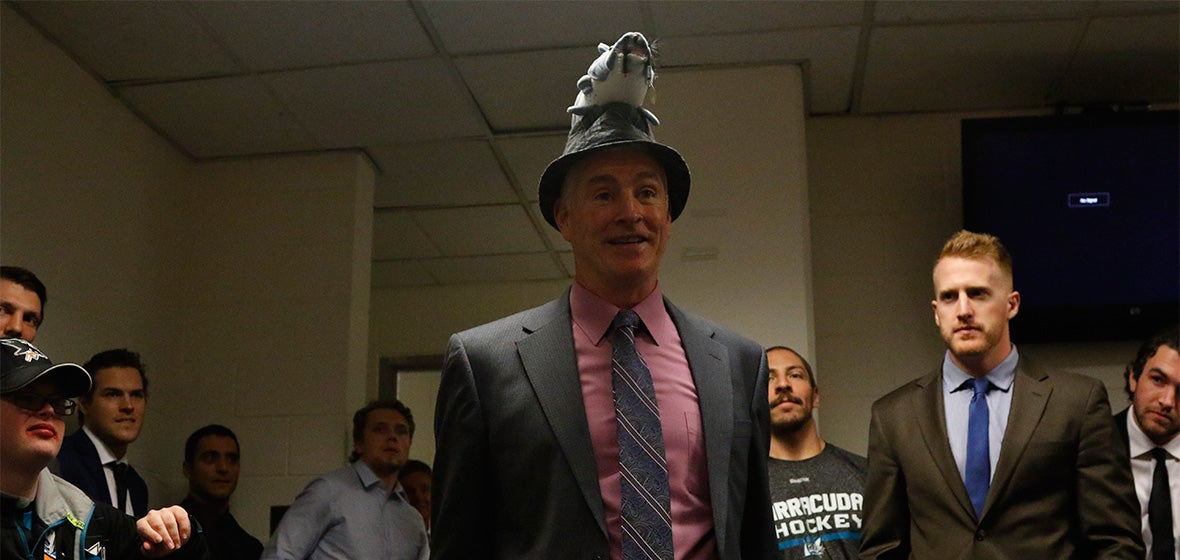 Barracuda Head Coach Roy Sommer Picks Up AHL Record 637th Career Victory
Feb 10, 2016
San Jose, CA - Barracuda Head coach and Bay Area native Roy Sommer picked up record breaking win #637 to surpass Fred "Bun" Cook (636 wins) for the most wins in AHL history as the San Jose Barracuda (20-16-5-3, 48pts) presented by Barracuda Networks began a three game home stand with a 4-2 win over the visiting Ontario Reign (28-11-3-1, 60pts) in front of 3,974 fans at the SAP Center on Wednesday evening.
AHL COACHING WINS – ALL-TIME
| | | | | |
| --- | --- | --- | --- | --- |
| 1. Roy Sommer | 1998-current | 18 seasons | 1,388 games | 637 WINS |
| 2. Fred "Bun" Cook | 1937-56 | 19 seasons | 1,171 games | 636 WINS |
| 3. Frank Mathers | 1956-85 | 18 seasons | 1,256 games | 610 WINS |
| 4. John Paddock | 1981-2010 | 16 seasons | 1,125 games | 589 WINS |
Now in his 18th season as the San Jose Sharks AHL affiliate's head coach, Sommer ranks 1st in the AHL in games coached (1,388) and now victories (637) with the 4-2 victory over the Ontario Reign (AHL affiliate of the LA Kings). In the AHL, he has coached 120 players who have gone on to play in the NHL, including 95 who have spent a portion of their careers with the San Jose Sharks. In all, 20 players who have dressed for the San Jose Sharks this season played for Sommer in the AHL at one point in their career.
The Barracuda exploded for three goals in the first period to take a 3-1 lead into the first intermission. Bryan Lerg (11th) scored his 100th career AHL goal with a power play strike at 1:35 to give San Jose a 1-0 lead. Gus Young (3rd) scored after a terrific move around a Reign defender and ripped a shot top shelf past goaltender Michael Houser from 45 feet at 5:59. Ontario struck back at 6:59 after rookie Jonny Brodzinski (7th) fired home a rebound past netminder Aaron Dell to cut the Barracuda lead to 3-1. San Jose truck again on the power play as Barclay Goodrow (15th) zipped a rebound from the left slot into the net at 14:26 to give the Barracuda a 3-1 lead through 20 minutes. Shots were 15-14 Ontario through 20 minutes of play.
Ontario fired 21 shots on Aaron Dell in the second period but Dell stood his ground. The only score in the middle frame came off a shorthanded rush by Ben Smith (3rd) at 1:22 for an unassisted goal to give San Jose a 4-1 lead. Shots were 36-21 Ontario through 40 minutes of play.
Justin Auger (10th) got Ontario back to within two goals after a goal mouth scramble at 1:49. Aaron Dell made 14 more saves in the third period for a grand total of 50 saves as the Barracuda held on for the 4-2 home victory over the Ontario Reign.
Notes: Three Stars: 3rd star Gus Young (1-1-2) 2nd star: Ben Smith (1-1-2) 1st star: Aaron Dell (50 saves, Win)….Final shots were 52-26 in favor of Ontario… Michael Houser (1-1-0) made 22 saves on 26 shots for Ontario….Aaron Dell (8-9-5) made 50 saves on 52 shots for San Jose …. San Jose went 2-for-3 on the power play while Ontario went 0-for-4…. Frazer McLaren (inj), Petter Emanuelsson (rest), Alex Gallant (inj), Rick Pinkston, Daniel Doremus, and Mark Cundari (inj) did not dress for the Barracuda… the win snapped a six game losing streak vs. the Ontario Reign…the shorthanded goal scored by Ben Smith was the 3rd shorthanded goal scored by San Jose this season…Raffi Torres played in his 5th game for the Barracuda – his 1st at the SAP Center…Fred "Bun" Cook held the AHL career wins record for more than 72 years -- he moved into first place on November 13, 1943 with his 153rd win and has been at the top of the list ever since.
Coming up….
On Saturday, the Barracuda host the San Antonio Rampage (AHL affiliate of the Colorado Avalanche) at 1:15pm on Pink in the Rink presented by Kaiser Permanente. Pink in the Rink presented by Kaiser Permanente will feature the San Jose Barracuda players wearing a specialty pink jersey to benefit Cancer CAREpoint and to support breast cancer awareness and research. The pink jerseys will be auctioned off throughout the game with a select view via an online auction with proceeds to benefit Cancer CAREpoint. Breast cancer survivors will be recognized throughout the game and fans are encourages to wear pink to show their support. For more information about Cancer CAREpoint please visit www.cancercarepoint.org. Doors open at 12:30pm for the 1:15pm puck drop vs. the San Antonio Rampage (AHL affiliate of the Colorado Avalanche). February 13 marks the 10th Barracuda/Sharks doubleheader at the SAP Center this season as the Sharks host the Arizona Coyotes at 7:30pm. Fans must have a separate ticket for both games. Coverage begins at 12:45pm online at www.kdow.biz.
On Sunday, the Barracuda host the Bakersfield Condors (AHL affiliate of the Edmonton Oilers) at 3pm. Score a Barracuda Family Pack presented by Sungevity! Starting at only $72, you not only get four tickets, four hot dogs, four bags of chips, and four fountain drinks, but also four pairs of San Jose Barracuda socks! Coverage begins at 2:30pm on AM 1220 KDOW.
All games can be heard live online at www.kdow.biz with a 30 minute pregame show before puck drop. Fans may watch the games online for a small fee at www.ahllive.com.
Listen to every game live for free on KDOW.biz or AHL Live. Watch the road games for a small fee at AHL Live. Join the game day conversation on Facebook and follow the game on Twitter by following @SJBarracuda.
Bring a group to sing the national anthem, book a fundraising event, host a birthday party, or have a blast in the high five tunnel.... secure your personalized Barracuda experience today!
Season ticket packages and group tickets for the 2015-16 season are on sale now by contacting the Barracuda Office at 408-977-4747 or by crashing the net at www.SJBarracuda.com.
Back to All