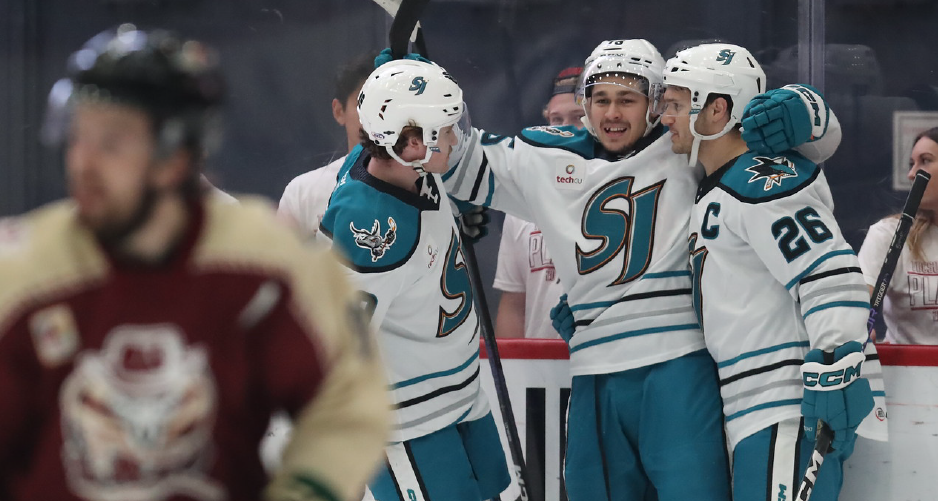 BARRACUDA ROLL PAST ROADRUNNERS, 4-3
Apr 14, 2023
Tucson, AZ - The San Jose Barracuda (30-34-2-5) battled it out on Friday night at the Tucson Convention Center Arena, defeating the Tucson Roadrunners (30-32-8-1), 4-3.
The first period would see the Roadrunners pick up the first goal of the game with a backhanded goal off the stick of Nathan Smith (12) at the 7:45 mark. However, at 14:51, Barracuda captain Andrew Agozzino (26) would pick up his franchise-record-setting 26th goal of the season, needing just six seconds on the power play to find the back of the net. Having picked up an assist on Agozzino's goal, Danil Gushchin (20) would give the Barracuda the lead at 18:38 with a five-hole shot on Tyler Parks (8-8-2-0).
In the second period, neither team would find the twine, but San Jose would put together three consecutive penalty kills, after going 1-for-2 on the power play in the opening 20 minutes.
Early in the third, Josh Doan (3) would find the equalizer 1:20 into the final frame, beating Strauss Mann (7-7-0-1) short side. C.J. Suess (9) would restore the Barracuda lead, refusing to give up on the puck and finding the sweet spot to sneak the puck behind Parks at 7:52. Gushchin (21) would add his second of the night on the power play at the 10:27 mark, firing a shot through traffic from the faceoff circle. Cameron Hebig (9) would pull the Roadrunners within one with a short-handed tally at 15:03, cleaning up a rebound.
Mann would finish the night with 34 saves on 37 Roadrunners shots while Parks would stop 25-of-29 Barracuda pucks. San Jose would finish the night 2-for-6 on the power play while killing all four Tucson opportunities on the man advantage.
Gushchin would pick up a goal and two assists, bumping him up to second on the Barracuda in scoring.
Shakir Mukhamadullin would add two assists, bringing him to nine on the season and 10 points in 11 games with the Barracuda.
Ethan Frisch picked up his first two professional points with secondary assists on the second and third Barracuda goals.
Captain Andrew Agozzino would pick up one goal bringing his single-season goal total to 26, setting a new franchise record. Agozzino would go on to add two assists, giving him 59 points on the season, setting a second franchise record for points in a single season.
The Barracuda close out their season on Saturday afternoon in the second game of their back-to-back set against the Tucson Roadrunners. Visit sjbarracuda.com for all of your Barracuda news and updates.
Back to All