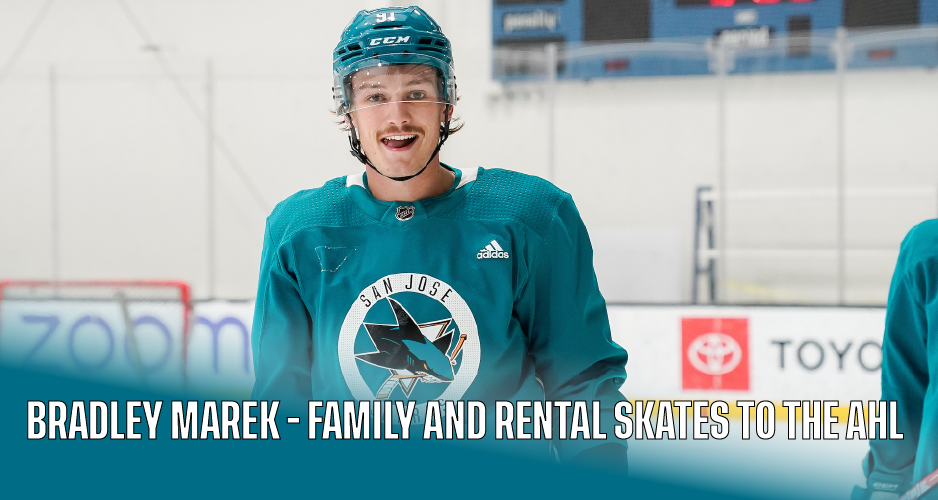 BRADLEY MAREK - FAMILY AND RENTAL SKATES TO THE AHL
Lizz Child
Aug 9, 2023
Growing up, newly-signed Barracuda forward Bradley Marek began his hockey journey thanks to his dad and when his cousin began playing, he followed in their footsteps. Marek says that when his family put him on the ice, he fell in love with it right away. Of course, as any hockey family knows, hockey is more than just the player on the ice. The 22-year-old gives a lot of credit to his family for where he is today, saying their support means everything to him.
"Family is very important to me. I'm always close with them when it's not hockey seaso. Even when it is, they're always making that extra effort to support me whether it be traveling to away games and just showing their support always and always being there for me and they have since I was a young kid, putting me through travel hockey. Just always showing that extra support and definitely hasn't gone unnoticed."
Speaking of the effort his family has made to support him and watch him play, San Jose is the furthest team from home that Marek has played for. Not to worry though, the newest Barracuda says his family is looking into road games they can make it to and are aiming to make it out to San Jose a few times throughout the season!
Of course, that means that Marek has some exploring to do himself before his family arrives so he can show them around a bit. July's development camp was the first time he has ever been to San Jose and, while he got out a little bit, the short visit definitely did not offer enough time to get acquainted with the area. Don't be fooled, however, Marek said he and the guys at development camp were able to go out and have some fun while they were in the area.
"One of the nights, after the scrimmage, we went to Topgolf and went out there and got some golf in and just kind of explored around. I did my own like a little walking around in the mornings or something just because I was not used to the time zone so I was up at five in the morning."
Speaking of Development…
Prior to his two years of playing NCAA hockey at Ferris State University, Marek spent four years playing junior hockey in the NAHL and USHL, and he says that time went by fast.
His joining San Jose has allowed for a reunion of sorts for Marek and Barracuda forward Danil Gushchin as the two played together for the Muskegon Lumberjacks during the 2020-21 season, Marek's final in juniors.
"It was awesome getting able to see Goosh," said Marek about their short time at development camp together. "He's an unbelievable player and my time in Muskegon with him was great. He always showed the effort and hard work that gets you to that next level and it shows. He's an exceptional player and I'm really excited to be able to get to play with him and see him again soon."
As for his decision to forgo his final two years of NCAA eligibility, Marek says he thinks the jump is going to be a new challenge and a good opportunity as well as being fun and an important step for himself.
"I was more of a late bloomer, which is totally fine. I took my time and I'm so happy with the route that I took. Going to Ferris State and spending two years out there, I learned a lot and cherished all the memories with the guys. I'm thankful for the coaching staff out there."
Why did he decide on San Jose? That was a decision that grew over time, as Marek says he had some attention from the organization throughout last year.
"I think it's just a great place to be. You've seen so many great seasons throughout San Jose's history and just continuing to build and progress year by year I think it's going to be really exciting times in San Jose."
Describing himself as a two-way player who can kill penalties, get into the gritty areas, win corner battles, and produce offensively, Marek says that was something he had to learn when he got to juniors.
"Got pretty good at it and took it to college with me. Learned how to kill penalties and win a lot of faceoffs. I think those are more my [style of game], just getting in the gritty areas, scoring goals, winning faceoffs and killing penalties."
Listed at 6-foot-3, Marek's size has played a factor in his game, though his speed is something he has been working on, and something he and the organization discussed following his time at camp.
Get to know Bradley Marek
What did you think of the experience of playing at Tech CU Arena in the 2023 Prospect Scrimmage?
BM: It was awesome. You know the fans were great even at development camp. I was quite shocked and I think that goes to show the loyalty of the fans in San Jose and even if it's just prospects. The fans were great and I'm really excited for the season to see how they show up for us.
What does a perfect day off look like for you?
BM: Probably a little golf and relaxing with the family or relaxing with the boys. I think that's the perfect day off for me. Golf and a little bit of relaxing.
How do you rate yourself as a golfer?
BM: Not very good but it's fun, so that's where I'm at.
What's your favorite club in your bag?
BM: Definitely not my driver. Probably my putter. I like to think I'm a decent putter.
Who are your top-three music artists right now?
BM: I like Morgan Wallen, I think that's a big one for me. Probably number one. Number two, let's go, Luke Bryan. Three, we'll go, Luke Combs.
Do you have any hidden talents?
BM: I can juggle. Not very great, but I can go for probably 20 seconds.
What has been the most fun thing you've done this offseason?
BM: California was pretty big for me, pretty cool. Being able to go out to Sharks camp and be out there, that was awesome.
If you were a fruit, what fruit would you be and why?
BM: Probably a strawberry. I just like strawberries. First thing that came to my head. They're nice and a lot of people like them.
Pancakes, waffles or French toast?
BM: I gotta go pancakes.
A quick story from Bradley Marek:
Going to a game when I was a kid, I rode with one of my teammates to the game. My parents were driving to the game, it was probably two hours away and my parents said they were going to be about 10-20 minutes later. So, we start warming up. We're like nine or ten [years old]. My parents roll in, look in the trunk, no gear. So we scrounge up some gear from the rink and I wear rental skates on the ice. I scored and that's all I remember. I was so excited.
So, what we're hearing is that rental skates may be the real secret to picking up points?
BM, laughing: To switch it up to get me out of a slump or something maybe I gotta go rental skates.
From Bradley Marek to Cuda Country
BM: Really looking forward to seeing you guys come October, and I'm really excited to meet a lot of you guys and be able to see your support on and off the ice.
Back to All