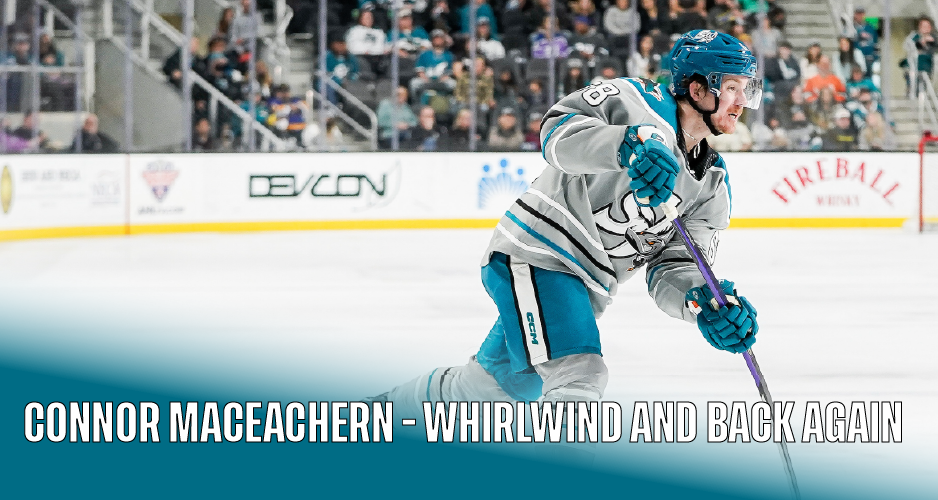 CONNOR MACEACHERN - WHIRLWIND AND BACK AGAIN
Lizz Child
Jul 19, 2023
Coming off of a long season with Penn State Men's Hockey, forward Connor MacEachern (Muh-Keck-Rin) spent the final 12 days of the season with the San Jose Barracuda roster before returning to finish his senior year and graduate in May. The entire experience was a quick turnaround from all perspectives for the 24-year-old MacEachern. After receiving the call that the Barracuda wanted him to join the team on an ATO over the weekend, Monday morning saw MacEachern on a plane and on the ice for a game with the team that afternoon in Palm Desert. Describing the day as a "whirlwind experience" that was "tough but great", he stepped into the lineup and fit right in, appearing in four of San Jose's final six games of the season.
While Cuda Country had the opportunity to see him in a game at The Reef just once in those four games, MacEachern is looking to show the home crowd just what he can do after signing an AHL contract with the Barracuda for the upcoming 2023-24 season.
If you missed out on catching one of his games in a Barracuda sweater in April, MacEachern describes himself as a competitive player who takes pride in the defensive zone and plays a 200-foot game while being a tenacious, outgoing player who likes to have fun on the ice. That defensive pride is something that is evident, with MacEachern saying, "It's always great, putting the puck in the net, but at the same time, keeping pucks out of your own end is a priority."
BEFORE BARRACUDA
Growing up in Ontario (the Canada one), MacEachern spent time thinking of a path through Canadian junior hockey, not thinking much about a path to professional hockey that involved college, but it was the path he found himself on. Playing his junior hockey split between the Cobourg Cougars in the OJHL (Ontario Junior Hockey League) and the Youngstown Phantoms of the USHL (United States Hockey League), MacEachern found himself on his way to the Big-10 as a member of the Penn State Nittany Lions.
Crediting his two years with Cobourg and one with Youngstown for getting him ready for the college hockey scene.
While he says his time playing at Penn State is something he will never forget, the highlight of his time came during his freshman year when Penn State won the Big-10 Championship. If he could go back to that time and give himself any advice, it would be to trust the process and always stay positive.
"Sometimes we get down on ourselves, but you need to have a positive mindset and good things will happen."
Of course, Penn State is now a MacEachern family affair as Connor's younger sister Maggie graduated from Colgate University this year and will be playing her fifth year at Penn State.
"I'm super excited to see her in that jersey. Super proud of her and everything she's accomplished. She's going to do great this year as well."
SAN JOSE
The decision to join the San Jose Barracuda was a conversation MacEachern says he had with his advisor when the team reached out. Once it was decided that San Jose was his next step, he had another call with the organization and was on a flight the next morning.
"I think they told me that night that I was going to be playing, but I think everything was kind of a blur, because there was such a change in my life, so to speak. When I got there, and I signed the papers, officially, they said you're in tonight. That was a lot to process, but at the same time I felt ready for it."
While it was a rapid change of pace, the experience was a positive one for MacEachern.
"The guys were great. I had never been to California, so that was something I had to adjust to but it was very neat. The guys are super welcoming, as I said, and the coaches were great. I felt really good when I got there."
Good enough to sign with the organization for a full season.
Coming back to The Reef and getting in front of the fans is on everyone's mind right now, but MacEachern Is most excited to get back with the rest of the team and usher in a new season of Barracuda hockey.
"I'm most excited to get back on the ice of the rest of the team. I think we had a lot of really good relationships and I got to meet a lot of the guys and I know some guys were leaving and a lot of guys are coming back. I'm really excited to see everyone else also again, get on the ice. Just spending time with them and learning. At the end of the day, we want to win. Our plan is to win and that's my mentality when we get there."
One of the guys MacEachern is most excited to get to know more is Ozzy Wiesblatt. "I thought he was pretty fun. He was a great character to be around, great personality. It was definitely fun seeing him at the rink every day."
GET TO KNOW CONNOR MACEACHERN
WHAT DOES YOUR GAME-DAY ROUTINE LOOK LIKE?
CM: School is obviously a little bit different. I didn't have any class on Friday, so that was kind of nice. Saturday, I would usually wake up and make breakfast. I would usually have a morning skate to get the legs moving a bit and then cold tub. I love the cold tub. I don't know why. Sometimes I hate it, but I feel like mentally it's good for me. Then have a pre-game meal and, depending on how I'm feeling or how I slept the night before, I'll have a nap. If not, I'll just kind of stretch, get ready and then have a shower. Get dressed up and then head over to the rink about two/two-and-a-half hours before [the game].
WHAT'S YOUR GO-TO PRE-GAME MEAL?
CM: At school here we kind of always had steak and pasta and potatoes. That was my big pre-game meal. I think I'm going to continue with that. I love steak, Zo that's a big thing for me. Usually that and lots of water. Probably a salad too.
WHAT DOES YOUR PERFECT DAY OFF LOOK LIKE?
CM: I love spending time with my teammates. I think a big part for me, I would like to spend time with my teammates. I know golf has been a big thing. I've started to golf a lot. Maybe doing that or just getting active and doing whatever with the guys. I'm pretty easygoing.
IF YOU NEEDED TO PICK THREE GUYS TO BE ON YOUR SURVIVAL TEAM, WHO WOULD YOU PICK FROM LAST SEASON'S BARRACUDA TEAM?
CM: I would definitely have Ethan Fisch in there. He's got his head screwed on pretty tight. He knows what he's doing. I think Vinny [Anthony Vincent] would be great as well. I roomed with him a little bit, so that was nice. I spent the most time with those guys just because we were in the hotel together and were able to see each other a lot so I definitely trust those two. And maybe one of the older guys, I think Sarge [Patrick Sieloff] was pretty good. He kind of took care of business and he was able to, I could always look to him if I had any questions. Roman [Kinal] would be a good one too. I think he's trustworthy and if we were in an apocalypse, I could have him as my right-hand man for sure.
IF YOU WERE A FRUIT, WHAT FRUIT WOULD YOU BE AND WHY?
CM: I love strawberries. I think strawberries are such a great fruit. Very reliable. You always know you're getting from them. So probably a strawberry.
WHAT IS SOMETHING YOU EXPERIENCED WHILE IN CALIFORNIA THAT YOU ARE LOOKING FORWARD TO GETTING BACK TO?
CM: The warm weather. I'm not always used to that sun. It's definitely something I'm going to need to get us to. I remember when we're on the road to San Diego, we went to the Padres game. I got pretty burnt out there. I was not expecting that because it was a little chilly back at school. So that was something I wasn't ready for and definitely needed some aloe after that.
TOP THREE ARTISTS OR SONGS ON YOUR PLAYLIST?
CM: I'm a big country guy. I love listening to country. I listen to a ton of Luke Combs and Morgan Wallen and Mitchell Tenpenny is really good. Country for sure.
WHO DO YOU THINK WOULD HAVE THE WORST PLAYLIST ON THE TEAM?
CM: I don't know if I would think he had the worst taste, but I'd like to know what Coesy [Brandon Coe] listens to. I would love to know what he likes, just out of curiosity.
WHO DO YOU THINK WOULD BE THE BEST ACTOR FROM LAST YEAR'S TEAM?
CM: I think Robo [Tristan Robins] would be a good actor.
WHO WOULD BE THE WORST ACTOR?
CM: [Thomas] Bordeleau? Would Bordeleau be a good actor?
Vinny might be one of the worst.
Anthony Vincent previously named himself for this question as well.
FOR THE FANS
CM: Hey, guys, like super excited to meet all of you. You know, privileged to play in front of you guys. I couldn't be more excited to be in San Jose.
Back to All