EETU MÄKINIEMI: WORKING FOR IT
Lizz Child
Jan 30, 2023
San Jose Barracuda netminder Eetu Mäkiniemi saw his first taste of the NHL with the San Jose Sharks this season and is doing everything to work his way back. He knows that his time in the AHL with the Barracuda is an important step in his return to "The Show" one day, hopefully for good.
"I feel like we started [well]," said Mäkiniemi when looking back on the first half of the season with the Barracuda. "We just need to find the right way for our team to play again. Otherwise, [I am feeling] pretty good in my own game," continued the 23-year-old netminder, looking at his own season.
The Finnish goaltender knows there is always room for improvement and recognized, "There [are] just a couple of things I need to get better at, and I am working for it."
However, stepping into his first NHL game to play 24:25 in relief of Kaapo Kähkönen on Dec. 7, Mäkiniemi saw the game into overtime for the Sharks, ultimately falling to the Vancouver Canucks, 6-5. Two days later, the former fourth-round draft pick of the Carolina Hurricanes saw his first NHL start and his first NHL win, making 23 saves on 24 shots and claiming a 6-1 win over the Anaheim Ducks before being returned to the Barracuda roster.
"Of course, I want to be [in the NHL]," admitted Mäkiniemi, going on to speak about his quick stint. "The players are better, and the speed is a little bit faster, so I need to be ready for that, but it definitely gave me some tools and an idea of where I want to be. I need to work for it."
Despite suffering six consecutive losses after returning from the Sharks, Mäkiniemi's work has paid off as he has won two of his last three starts, sporting a .952 SV% and 1.33 GAA over that span, including his second shutout of the season.
With two other goaltenders – Aaron Dell and Strauss Mann – in and out of San Jose's AHL roster this season, Mäkiniemi says it has been nice to have a rotation of three netminders during practice when they are all with the Barracuda.
"We are getting a lot of shots in practice," he mentioned of the non-game workload. "When there are three goalies, you can kind of share the load and you can get off every time you feel too tired. You can really concentrate on every rep and I feel like that is definitely making us three way better in getting to the next step [in where] we want to be." For all three netminders, a full-time role in the NHL is the goal, and Mäkiniemi's glimpse of what could be is going to continue to drive him until he gets there.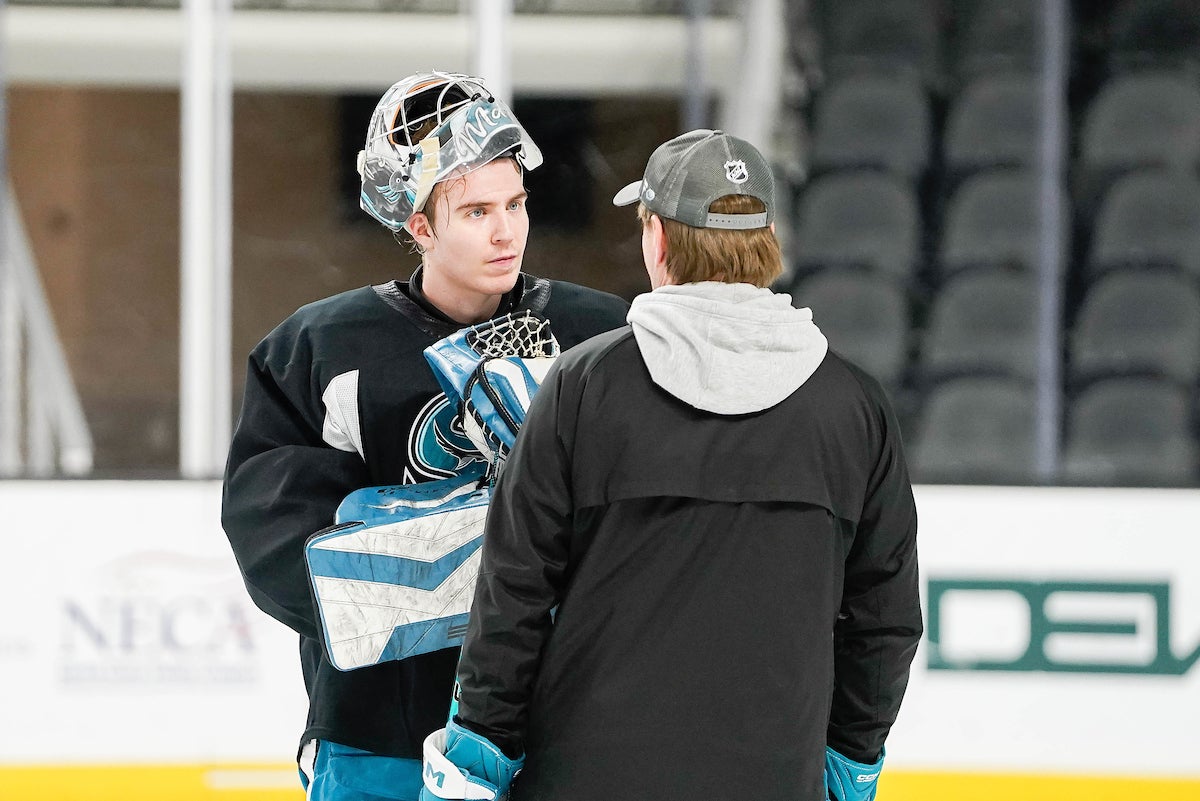 ---
ABOUT TECH CU ARENA
Tech CU Arena is a state-of-the-art, 4,200-seat arena located in San Jose. It is the home of San Jose Barracuda. Tech CU Arena is a partnership between Sharks Sports & Entertainment and Technology Credit Union, a full-service, federally insured not-for-profit credit union headquartered in the heart of San Jose. With more than 155,000 members, Tech CU provides a wide array of financial products and services, including personal banking, financial management, private banking, commercial lending, and business banking. Learn more at www.techcu.com.
#SJBarracuda #OneReef
Back to All