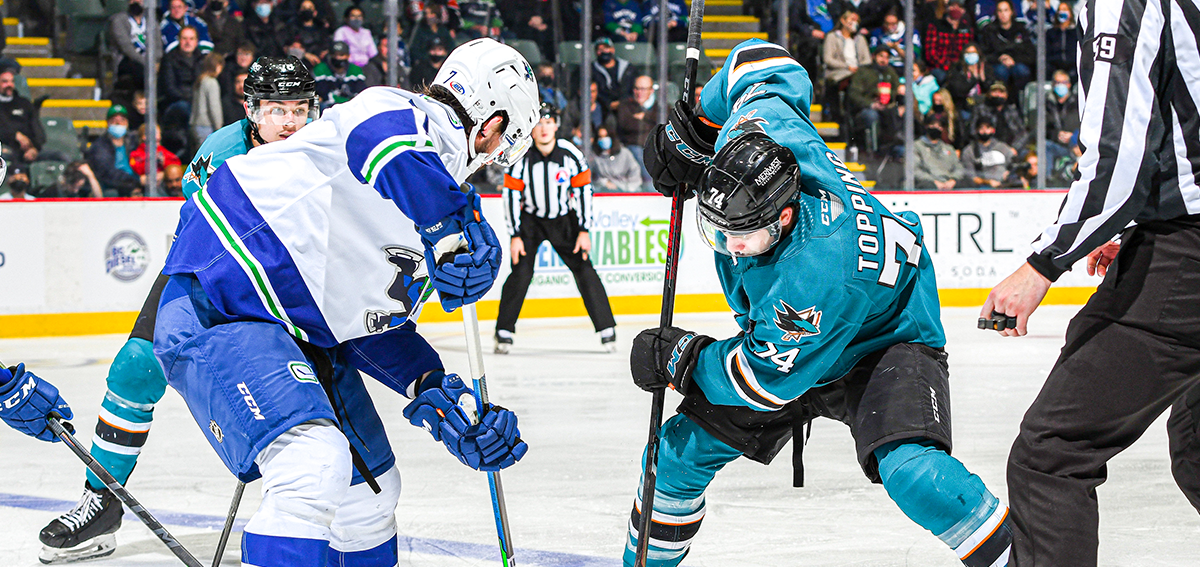 GAMEDAY: BARRACUDA VS CANUCKS
Apr 14, 2022
SAN JOSE BARRACUDA (20-39-3-2) vs ABBOTSFORD CANUCKS (34-21-5-1)
FRI., APR. 15 | 5:00 P.M. | SHARKS ICE | SAN JOSE, CA
LISTEN | WATCH | MEDIA KIT | GAME NOTES
Final Four: The Barracuda wrap up its home schedule on Friday at Sharks Ice, taking on the Abbotsford Canucks for the eighth and final time this season. The Barracuda are 3-4-0-0 versus the Vancouver affiliate this year and 1-2 at home. In the last meeting on Mar. 24, the Barracuda were dealt a 4-1 loss, despite outshooting the Canucks 33-to-18.
About Abbotsford: The Canucks enter Friday having won four in a row and have outscored its opponents 20-7 during the stretch. With seven games left on its regular-season schedule, six on the road, Abbotsford has already secured a playoff spot and currently sits at the fifth position in the Pacific Division. Abbotsford is seventh in the league in goals-for-per-game (3.41) and seventh in goals-against-per-game (2.84). The Canucks boast the league's second-best power-play (24.0) and 15th-best penalty-kill (80.8) and are a +35 (6th in the AHL). In seven games against the Barracuda, the Canucks are a +10 (29-19).
Michigan Man: On Wednesday, Sharks' top prospect Thomas Bordeleau, 20, made his pro debut, notching three assists in a 6-3 loss to the Bakersfield Condors at the SAP Center. The Barracuda signed 2020 second-round pick Thomas Bordeleau to an amateur tryout agreement (ATO) on Tuesday. Bordeleau just finished his sophomore season at the University of Michigan, helping guide the Wolverines to a Frozen Four appearance in which he scored to force overtime in an eventual 3-2 loss to Denver University in the semifinal. On a Michigan team that featured seven first rounders, Bordeleau finished tied for fourth in points (37), fifth in goals (12), third in assists (25), and sixth in plus/minus (+18). In 2020-21, Bordeleau was the recipient of the Tim Taylor Award, given out annually to the best first-year player in NCAA Division I men's hockey after leading all freshmen in scoring with 30 points (eight goals, 22 assists). He finished his NCAA career with 67 points (20 goals, 47 assists) in 61 games. Both his father, Sebastien, and grandfather, Paulin, played in the NHL.
Two More in Teal: The Sharks inked rookie d-man Nick Cicek to a two-year entry-level contract on Monday. In his first pro campaign, Cicek, 21, has recorded 23 points (five goals, 18 assists), 60 penalty minutes, one power-play goal, one game-winning goal, and 61 shots in 48 games with the Barracuda. Among team defensemen, he is second in points, second in shots, tied for first in assists, and tied for second in penalty minutes. Among league rookie defenders, he is ninth in scoring and tied for 11th in goals.
Rough Road: After earning points in eight of nine games to start March, the Barracuda have now dropped its last 11 games after falling 6-3 to the Condors on Wednesday. The 11-game skid (0-10-1-0) and 10-game losing streak at home (0-9-0-1) are the longest in franchise history. During the stretch, the Barracuda have been held to just 23 total goals (2.09 goals-for-per-game) and have scored one or fewer goals five times. In addition, the team has given up 56 goals during the 11 games (5.09 goals-against-per-game). Entering Friday, the Barracuda are 19th in the league in goals-for-per-game (3.00) and 31st in goals-against-average (4.25).
Back to All