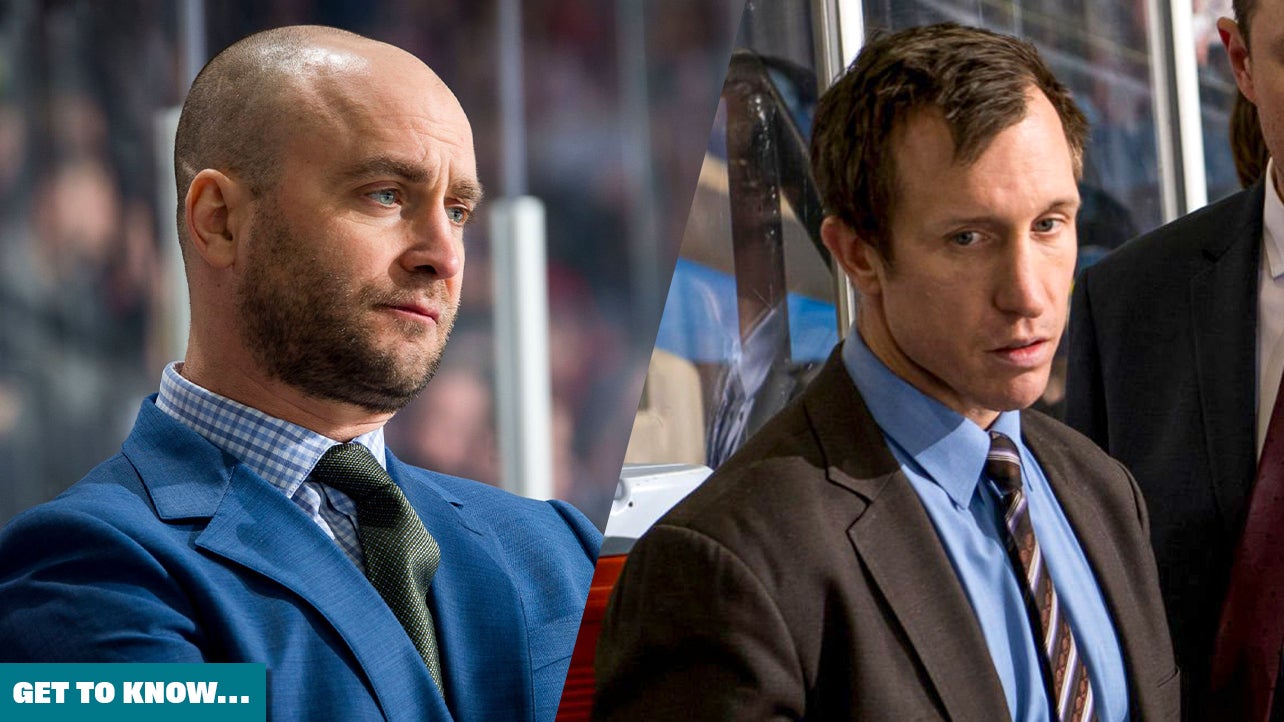 HAGEL AND MASS READY TO TAKE A BITE OUT OF THE AHL
Lizz Child
Aug 1, 2022
After being announced to join the San Jose Barracuda as assistant coaches on July 18, Kyle Hagel and Louis Mass are ready to help head coach John McCarthy lead the team into a new era.
Both of the latest additions to the Barracuda coaching staff have strong records of with their previous teams and have spent time developing players into NHL prospects, something they will continue to do from within the organization in San Jose.
WHO THEY ARE
Both Kyle Hagel and Louis Mass spent their WHL (Western Hockey League) coaching careers with two of the top-performing teams in the league. While both were primarily working with defensemen, Hagel will be transitioning his focus to forwards and the power play with the Barracuda after his five years with the Seattle blueliners. Don't fret, however, as it won't be an awkward transition for the former AHL player himself.
"I was a forward for my pro career, so I think it'll be an easy switch. I've also been breaking down power plays for the last five years, running the PK, learning what works and what doesn't and different things we can do to have some success."
Breaking down power plays went very well for Hagel and the WHL's Western Conference Champion Seattle Thunderbirds as they had the second-highest rated penalty kill in the league, with an 84.3% success rate throughout the 2021-22 season, behind only the league champion Edmonton Oil Kings.
The year prior, Mass and the Silvertips boasted the league's top penalty kill, with an 88.4% success rate. However, the number isn't what Mass has emphasized when working with players over his four seasons with the Silvertips. For him, it's about just working with players to improve things on an individual level.
"I know there are catchphrases like 'transformational,' but for me, it's just to show up every day and bring energy and a positive attitude towards growth. Really enjoying not just the destination, but really being focused on the process of improvement. That keeps me coming back every day and enjoying my time at the rink. Hopefully, that energy is infectious to the players and the players enjoy that part of the process too.
HOW THEY ENDED UP WITH SAN JOSE
"The way I approached building a staff, as a whole, I didn't want three of me. I wanted the staff to complement one another, so I wanted to make sure we didn't have three very similar personalities."
That is how John McCarthy said he looked at building his staff and that was a big part of how he settled on Hagel and Mass. McCarthy mentioned that he specifically liked Hagel's competitiveness and Mass's passion for teaching the game. While they have different approaches to coaching, they have the same mindset on how to achieve a goal.
Their mindsets, along with their willingness to put in the work to develop players at both the individual and team levels, made the two stand out to McCarthy during the interview process. A process that McCarthy noted he was willing to hold up the process in order to make sure he spoke to every candidate there was interest in. In the case of Kyle Hagel, McCarthy waited until after the Thunderbirds' deep playoff run ended in mid-June to reach out. Even then, Hagel says he wasn't really expecting a call.
"It had been in the back of my mind, to move up, but I hadn't really placed any phone calls or anything. Once the season ended, I heard from Johnny, and it seemed like an excellent opportunity to get in with an organization that is kind of resetting."
Though the Silvertips had an unexpectedly early exit from the playoffs after finishing the regular season atop the Western Conference, McCarthy also waited to contact Mass until after the season had come to a close for the team in Everett. As for the decision to join the group in San Jose? Mass says there were multiple, including the general opportunity to move up to the next level and make an impact on how things are done.
"It's how can you be an important piece and get that organization or player moving toward their ultimate goal? Especially with San Jose and where they're at, there's real opportunity to be part of changing things and growth rather than just coming in and building on top of somebody else's model, right? An opportunity to have a bigger hand in something, and I think that's appealing too."
However, Mass says he is not the one to come in and decide on the direction of the team, just to be instrumental in helping archive the organization's goals.
HOW THEY COACH
The focus on the development of players is something that McCarthy was looking for among his coaching staff, having previously said that all the Barracuda coaches were going to be developmental coaches moving forward, rather than a singular person with the title.
"I think the most important thing for me, in the interview process, was figuring out what kind of coach you are? Are you an X's and O's, or a systems coach, or are you more of a developmentally minded coach and they're both developmentally minded. They want to take the time and they want to get to work with the players in more of a one-on-one setting."
For Mass, he most enjoys working with players who want to work on their weaknesses, not only the skills they already excel at. That openness is the trait that he looks for in players because it is a factor in showing that they want to be the best they can be, and it helps Mass bring out that best in them.
"I've learned to be more of an ally and a partner with a player, as far as dictating things. I've learned to listen better and help solve problems. I think for me that's my style, if you were to put it into terms, I'm somebody that really likes to dig deep to solve problems. Really, that's why we're all there. We're trying to improve. I think when we're trying to make ourselves better at anything, it's really important we hold up the mirror, explore where we're falling short, and come up with a solution. Build a plan that's going to put somebody on a different path."
On the other hand, the trait that Hagel likes to see in players is grit. A word the Sharks organization has become familiar with over the last few weeks. However, Hagel explains that grit is not just checks or fighting, it is something a player can display in any role. Specifically noting that the willingness to make a play shows grit in a player as well.
"Wanting the puck can be such a key factor. Do you want the puck on your stick? Are you willing to go and take it in the face of some danger? That can be a determining factor in success."
SWIMMING IN THE SAME DIRECTION
Something that was evident with both the Thunderbirds and Silvertips over the last season was how much the guys on each team were playing for one another. A trait that Barracuda head coach John McCarthy says is something he wants to see in the organization moving forward.
"We all want to be pulling the rope in the same direction. I think it's important to put the organization first. I think the most important step in coaching, if you look at the season as a whole, is determining roles for players. I think players appreciate that clarity of 'okay, this is what I'm supposed to do, and this is how I'm supposed to do it.' I think the faster you can get that across to the players, the sooner you'll see some success on a team level. I do think it's important to put the organization, put the team first, and those guys having a history with that is definitely a positive for us."
While team identity has been a big topic, the culture of a team impacts the performance on the ice, and both Hagel and Mass have views that line up with McCarthy's vision for the culture among the Barracuda moving forward.
"You have to do it for each other. Hockey is a team sport. You need each other to be successful, so you need to play hard for each other." - Kyle Hagel
"I don't think there's any real secret ingredient to success other than putting time in and being open to learning and underlying that with some foundational human connection stuff that I think is part of good culture." - Louis Mass
GET TO KNOW KYLE HAGEL AND LOUIS MASS
Favorite thing to do outside of hockey?
Hagel: Hang out with my kids. My absolute favorite thing to do is to watch my kids ride on their bikes. I can do that all day long. Take my kids to a pump track and I could literally sit there for hours just watching them go around. You're just watching them have fun and watching them learn in real-time is my favorite thing to do.
Mass: Well, I'm from Alaska, so my favorite thing to do for fun in the offseason is fly fish for rainbow trout and steelhead. Probably my favorite activity. Not a big golfer, but hiking and fishing, other outdoors stuff like camping, those are the big ones for me.
As a coach, do you have a pre-game routine that you stick to?
Hagel: I have to wait and see how Johnny conducts himself pregame and I'm going off of his lead this year. There's nothing in particular so far.
Mass: I don't have any big routines other than I like to get to work early and I drink probably way too much coffee.
(He takes his coffee black, in case you were wondering.)
If you were a fruit, what kind of fruit would you be?
Hagel: Maybe an orange. Tough skin, a tough exterior, but just tasty on the inside. Full of vitamins.
Mass: I'd probably be a blueberry. To me, it's the most Alaskan fruit I can think of.
Of course, we needed John McCarthy's thoughts on which fruit he would compare both newcomers to:
McCarthy: Hagel would be a pineapple. He's kind of spiky on the outside. He's got a little fierceness to him. Louis would be a pomegranate or something with a lot of layers. I would say an onion, but an onion is not a fruit. He's got a lot of layers to him. He's very deep. He's intellectual. He's cerebral.
What does your perfect pizza have on it?
Hagel: Just every veggie that the place had available.
Mass: I like Hawaiian pizza and I like to add jalapenos to that.
What would your early message be to the fans?
Hagel: Just that we cannot wait to get down there to join the Barracuda, to join the Sharks organization. My family is everything to me. My wife and my two kids are just the light of my life and all four of us are so excited to join the team and join the community. We just know we can't wait to get down there and get started.
Mass: [I am] very excited to be a part of this and I hope that they're as excited or more to see what's around the corner here. I'm excited about the environment we're going to have with the new facility. We're going to have a lot of new faces in the locker room and on the ice and a fresh approach that will be great for everybody. I'm excited to be a part of that with the Barracuda and I can't wait to get the building rocking here at the start of the year.
McCarthy: Expect a team that is well coached, that is motivated, that is going to play a fast game and that is going to be hard to play against. Those are all kind of cliche things to say, but it really does describe the way we want to be as a team and as an organization. I'm excited for September. We'll get started with some rookie tournament and rookie camp, straight into training camp, followed by the Barracuda training camp and the Barracuda regular season, so it's an exciting time of year.
Back to All