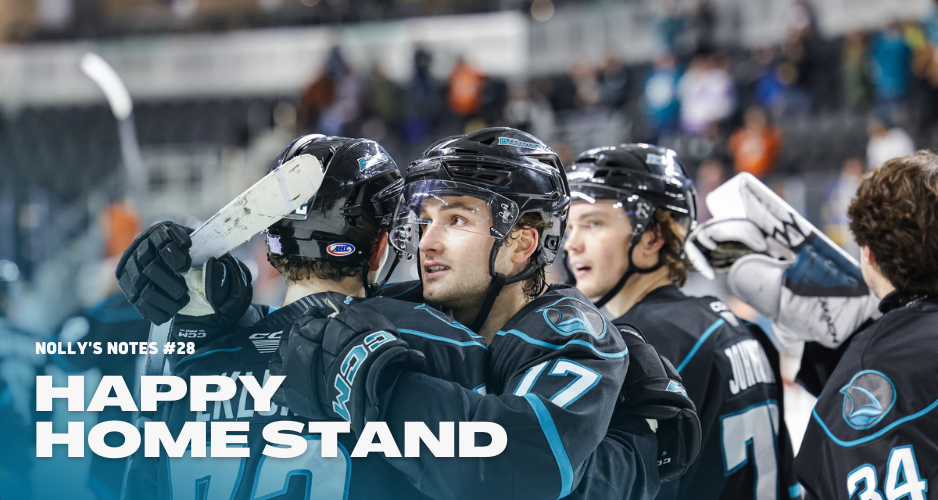 NOLLY'S NOTES - BLOG #28
Nick Nollenberger
Dec 7, 2022
Happy home stand, Barracuda fans. As I often do in these blogs, I'm going to jump around a little because there is a lot to go over after four games in six days. But first, I don't want to forget to mention that we can't thank you all enough for coming out to Saturday's Teddy Bear Toss game presented by Kaiser Permanente and supporting a great cause. That was one of our best atmospheres yet, and the players fed off that energy. Let's keep it going this Friday for Top Gun Night as the Barracuda host the AHL's newest team, the Coachella Valley Firebirds, for the first time ever.
Following back-to-back losses to begin its season-long six-game homestand, the Barracuda bounced back in a major way on Saturday and Sunday, collecting a pair of wins over the Tucson Roadrunners, and are now T-third, along with Ontario, in the Pacific Division with 25 points.
On Sunday, for the seventh consecutive game, the Cuda gave up the first goal, but for the fourth time over the stretch, they found a way to come back and pick up a W, and are now 7-5-0-1 when falling behind first. No team wants to play from behind, but the Barracuda are learning how to win in different ways, which is a sign of a good team. They have also proved they don't mind playing in tight games, as they are now 6-2-0-1 in one-goal contests.
Professional Hockey Tickets Start at Just $13

Catch the future of the San Jose Sharks, Friday with the San Jose Barracuda as we celebrate Top Gun night!

✈️First 2000 fans in attendance get a Top Gun x Barracuda Hat
✈️Fun for the whole family
✈️ $1 hotdogs
✈️Beverage Specials pic.twitter.com/evCbH4cit3

— San Jose Barracuda (@sjbarracuda) December 6, 2022
Beyond finding ways to win in different ways, the club is finding a way to win with different players too. On Sunday, Ryan Merkley was the only defenseman in the lineup on an NHL contract after Artemi Kniazev was injured in Saturday's win. I'll have you know, I did see Kniazev in the locker room the next day, and he was in good spirits after taking a scary hit into the wall. So, hopefully he can return soon. As for the other injured D, Santeri Hatakka missed his 11th consecutive game on Sunday, Derrick Pouliot missed his ninth, and Patrick Holway missed his sixth. There is no timetable on the return of any of those guys, so Jalen Smereck and Will Riedell will be sticking around, at least for the time being. Both are currently playing on a professional tryout contract.
After scoring just five power-play goals (5/43=11%) over the first 13 games of the year, the Barracuda have now netted a PPG in nine straight (13/49=26%), matching a franchise record which was previously set during the 2016-17 season. Over the last nine games, the Barracuda have vaulted from 32nd in the AHL on the PP, to 18th (20.2%). As head coach John McCarthy put it the other day, the power play is all about chemistry. Sometimes it just takes a while to get going. The Barracuda scored five power-play goals in the two games over the weekend, and the rookies were at the forefront of it all. Tristen Robins and Thomas Bordeleau are now both T-first among first-year players in power-play goals with four a piece, and William Eklund, Danil Gushchin and Bordeleau all picked up a PPG over the weekend.
I'd be remissed if I didn't mention captain Andrew Agozzino in this blog after he netted his 199th and 200th AHL goals on Sunday. Goal 200 was the Barracuda's OTW. The captain has been on a point tear as of late, collecting points in nine of 11 (6+7=13) and leads the Barracuda in scoring (20), assists (13), shots (62), power-play assists (7), and power-play points (8). I really think one of the biggest things the Barracuda missed the last couple of years was a veteran player who could score. Almost every good team in the AHL has one, and Agozzino has really provided an offensive punch while also wearing the "C" and filling a huge leadership role.
Maybe one of the most polarizing players in the Sharks organization, not currently on the NHL roster, is defenseman Ryan Merkley. And I've had a lot of people ask me about him lately, and for good reason. He's a former first-rounder in an organization looking for as much young talent to stockpile as possible. So, I thought it would be a good idea to talk about him in this blog. Before I begin, I want to preface this by saying, these are strictly my opinions, fostered through watching every game and being around the team.
There's no doubt there has been market improvement in all areas of his game this year. First off, his attitude and approach has been great. In year three, he's really become a pro. He shows up every day, works hard, and he's getting results. He's a plus player for the first time in his three years and he's putting up career-high assist totals to this point. Defensively he's improved exponentially as well, although that will never be the backbone of his game. It's due in part to the goaltending, but it could probably be argued, Merkley has been one of the most reliable and effective defensemen on a team that is top-third in the AHL in goals-against. From the naked eye, there has been less turnovers and more high-end plays. His passing ability is just off the charts. Where he gets in trouble is when he tries to stickhandle through players at a lower rate of speed entering the zone or while handling the puck just inside the offensive blueline. His calm demeanor with it on his stick is almost like no one in the AHL, but sometimes that casual nature gets him in trouble as he tries to walk through and around guys. By no means would you want to take the offense out of his game, but he's begun to make more calculated risks and less freewheeling.
The biggest learning curve for young players is learning how to play on both sides of the puck. Or in laymen's terms, in your own defensive zone. There is no question, Merkley has improved in that area. Every single player's''''''''''''''' development path is different. If it wasn't, the AHL would render obsolete. Let's not forget, he's only 22 and still one of the younger players on a roster that ranks third youngest in the league (24.08). I'm excited to see where he can grow as the year continues, and I believe there is still a high ceiling there.
We wrap up this edition of Nolly's Notes with the recent recalls. The Sharks stayed to the script, not plucking one of its young prospects from the Barracuda when it needed to recall a forward. Instead, CJ Suess was called up on Tuesday after the team placed Matt Nieto on injured reserve. The Sharks did recall goaltender Eetu Makiniemi for the first time this year, and assigned Aaron Dell to the Cuda. If the Sharks struggle on Wednesday, I would not be surprised if we see the young Fin get his first NHL start on Friday in Anaheim. The recall for Makiniemi was well deserved, as he's been excellent for most of the year in the AHL.
That will do it for this edition of Nolly's Notes. Thanks for reading and so long until next time.
Back to All