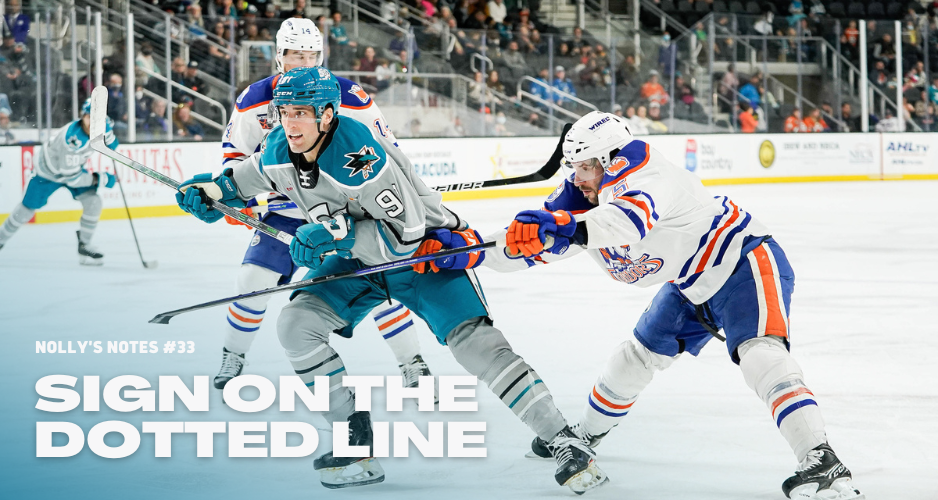 NOLLY'S NOTES - BLOG #33
May 24, 2023
Nick Nollenberger (aka Nolly) is the voice of the San Jose Barracuda. 2022-23 was his seventh year with the club. During the year, he can be heard at SJBarracuda.com, via the Sharks Audio Network and on AHLTV.com. A native of Santa Cruz, CA, Nolly played for the San Jose Jr. Sharks as a kid. His broadcasting career began while in college at the University of Arizona.
Hello, Cuda Country! Hope everyone is doing well. Since we last spoke, the Barracuda officially signed three players to AHL contracts for the 2023-24 season, inking forward Anthony Vincent and defensemen Roman Kinal and Ethan Frisch. Near the final month of this past season, the Barracuda added an unpresented six players from outside the organization to professional tryouts (Nathan Burke, Frisch, Chase Gresock, Kinal, Connor MacEachern and Vincent). Now we know at least half of that group will be back.
In a small sample size, I liked what I saw from all three players. Vincent, 25, is your prototypical bottom-six forward, and I don't mean that as a slight. He works his tail off every shift, often agitating the opponent with his relentless nature. He had a big offensive year in his final collegiate season in 2022-23 with the Long Island University Sharks, so it'll be interesting if he can translate some of that to the pro level. In 14 AHL contests, he collected a pair of assists in imited ice time. Kinal, 24, dressed in six games with the Barracuda at the end of the season and I thought he was steady, which is all you can really ask for a player coming straight from school. He's got a leadership background, having served as the captain of the UConn Huskies in his final season of college hockey, and he's got good size at six-foot-two, 198-pounds. Frisch finished with two assists in seven games and played with all three pairings during his limited action. He's a good skater who, despite being just five-foot-11, plays a stout style. He's also a right-shot defender which is coveted by all organizations. At 22-years-old, he's a candidate to earn an NHL contract next year if he can put together a strong rookie season, much like Nick Cicek did the season prior.
Vincent, Kinal and Frisch are the only current Barracuda players signed to AHL contracts for the upcoming year. The list from CapFriendly (see below) notes all the Sharks "current" waiver-exempt players. In other words, players that are under contract and can freely go from the AHL to the NHL without being exposed to the rest of the league. Obviously, the Sharks will continue to add players via NHL and AHL contracts this summer. For example, last year the org added several key veterans that were big contributors with the Barracuda after July 1 (Aaron Dell, Andrew Agozzino, and C.J. Suess). The Barracuda also signed multiple players late in the summer on AHL contracts (Derrick Pouliot, Luke Johnson, and Patrick Sieloff). Some of the guys on the list below are RFA and may not be resigned, so this will change as the offseason continues.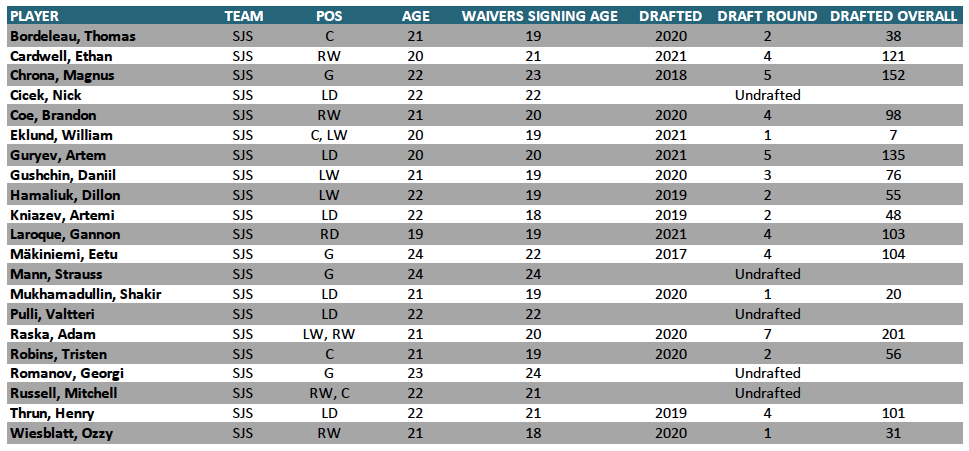 Calder Cup Playoffs
The Coachella Valley Firebirds finished second in the AHL during the regular season to in-Division rival the Calgary Wranglers, but on Monday they eliminated the Wranglers with a 6-5 overtime win in a decisive game #5. The Firebirds, the top affiliate of the Seattle Kraken, will begin its best-of-7 Conference Finals series with the Milwaukee Admirals (Nashville Predators) on Thursday at Acrisure Arena in Palm Desert. As I noted in my last blog, the last time a Pacific Division team reached the finals was in 2018 (Texas), but no Pacific team has ever won the Calder Cup since the division was created in 2015-16.
There are just four Cuda alumni still in Calder Cup contention; Mason Jobst (Rochester), Alex True (Coachella Valley), Matt Tennyson (Coachella Valley), and John Leonard (Milwaukee).
In the NHL, Stefan Noesen (Carolina) is the only former Barracuda player still in Stanley Cup contention, although the Canes are currently down 3-0 on the Florida Panthers.
We're big @usahockey fans over here.

🦈 x 🇺🇸 pic.twitter.com/o0Ig2BfgUY

— San Jose Sharks (@SanJoseSharks) May 19, 2023
NHL Draft
With the New Jersey Devils getting eliminated last round by Carolina, the Sharks officially have the #4 and #26 overall selections in the first round of the 2023 NHL Draft. In total, Team Teal is slated to have 12 picks. The Sharks last selected 12 players in 1995 when the draft was nine rounds. On five separate occasions, SJ has had multiple first round picks. The last time was 2007 when they selected Logan Couture (9th overall) and Nick Petrecki (28th overall).
World Championships
David Quinn, Henry Thrun and a large portion of the Sharks coaching staff remained undefeated on Tuesday at the World Championships, claiming a 4-3 overtime win against Sweden. Thrun played just under 14 minutes in the game and finished with a +1 rating. With the victory, the U.S. earned the top spot in Group A, and for the first time ever, went undefeated in the preliminary round. The U.S. will play in Thursday's quarterfinals against Martin Kaut and Team Czech. With eight teams remaining, it is win or go home from here on out. Sharks forward Fabian Zetterlund and Team Sweden will take on Latvia on Thursday and Nico Sturm and Team Germany will face Team Switzerland.
That will do it for this edition of Nolly's Notes. A reminder, tickets are still available for the 2024 AHL All-Star Classic at Tech CU Arena. CLICK HERE for more details. Thanks for reading and so long until next time.
Back to All