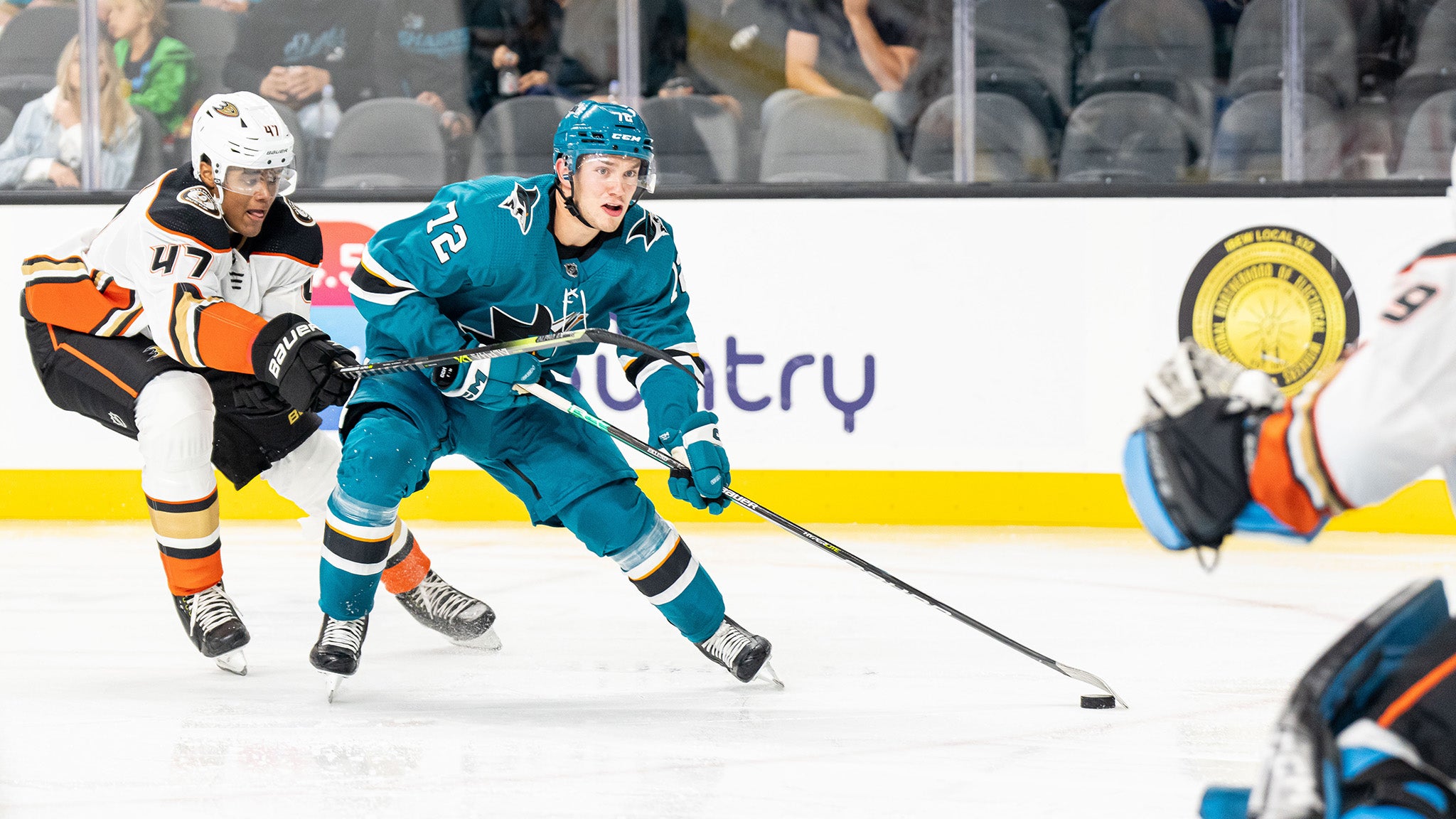 Rookie Faceoff Day One Recap
Lizz Child
Sep 17, 2022
San Jose, CA – It didn't take long for the new era of San Jose Sharks hockey to make an appearance, with the Sharks' youngsters pulling off a 3-2 overtime win against the Anaheim Ducks roster.
With William Eklund, Thomas Bordeleau, and Scott Reedy starting up front in teal (all teal!) and Nick Cicek paired with Ryan Merkley on the blue line, Strauss Mann got the entire game in net. To seemingly little surprise, Eklund and Bordeleau each picked up a point on all three goals. Bordeleau opening the scoring in the middle of the first period, assisted by Eklund and defenseman Artemi Kniazev. While the Sharks prospects went without a goal in the middle 20 minutes of play, Eklund found the game-tying goal early in the final frame, with Bordeleau and Merkley picking up assists. To cap off the night, Eklund found himself netting the game-winner just 32 seconds into overtime with assists to Cicek and Bordeleau.
While the pair of Eklund and Bordeleau have shown they have a chemistry when playing together, San Jose Barracuda head coach John McCarthy, who is coaching the Sharks at the Rookie Faceoff, says their chemistry was even stronger last season. Basically, Sharks fans should be excited, because the duo has the potential for so much more than has been put on display. 
"They're both, you know, high IQ guys," said McCarthy of 72 and 17 in teal. "They see the game at a high level and they see kind of similarly, actually. So, trying them together was kind of a no brainer"
Speaking of seemingly easy decisions Nick Cicek donned the captain's "C" on his jersey for the first Sharks tilt of the Rookie Faceoff. Wearing the letter is a role the 22-year-old defenseman has  experienced before, captaining the WHL's Portland Winterhawks in his final season of junior hockey.
"He's done a good job," noted McCarthy of Cicek was picked for the leadership role. "He's been a leader in the locker room with this young group. So we felt he deserved it."
Scott Reedy and Artemi Kniazev each sported an "A" on their jerseys to round out the leadership group on the ice.
Or course, back stopping the group's performance against Anaheim, Strauss Mann stopped 35-of-37 pucks that came his way. While the decision on which of the five net minders in San Jose's roster find time in the team's next two games, Mann certainly showed why the organization signed him last April.
As for the overall goal of developing an identity of being a team that is hard to play against, McCarthy mentioned, following the game on Friday night, that he saw that in the group in the ice "at times".
McCarthy used his own experience as a reference for what makes a team hard to play against, and it's not just dropping the gloves and laying big hits on opponents – which Montana Onyebuchi and Ozzy Wiesblatt seemed content to do all night.
"Looking back on when I was a player, playing against a team that has the puck all night is incredibly hard to play against. You're chasing it all night and it's very frustrating. And I think that's an important aspect that I thought could have probably been better tonight than I thought at times Anaheim got rolling around in our zone. If we get in place a little quicker and possess the puck, I think we'd be better off."
With only having one skate before before the first day of the Rookie Faceoff, it comes as no shock that there are things this crop of Sharks prospects need to continue to work on. Though, a win over a talented Ducks prospect pool in a brand-new arena sure feels nice.
The Sharks' fun continues Saturday night, as the team faces the Colorado Avalanche roster 7pm at Tech CU Arena.
Back to All