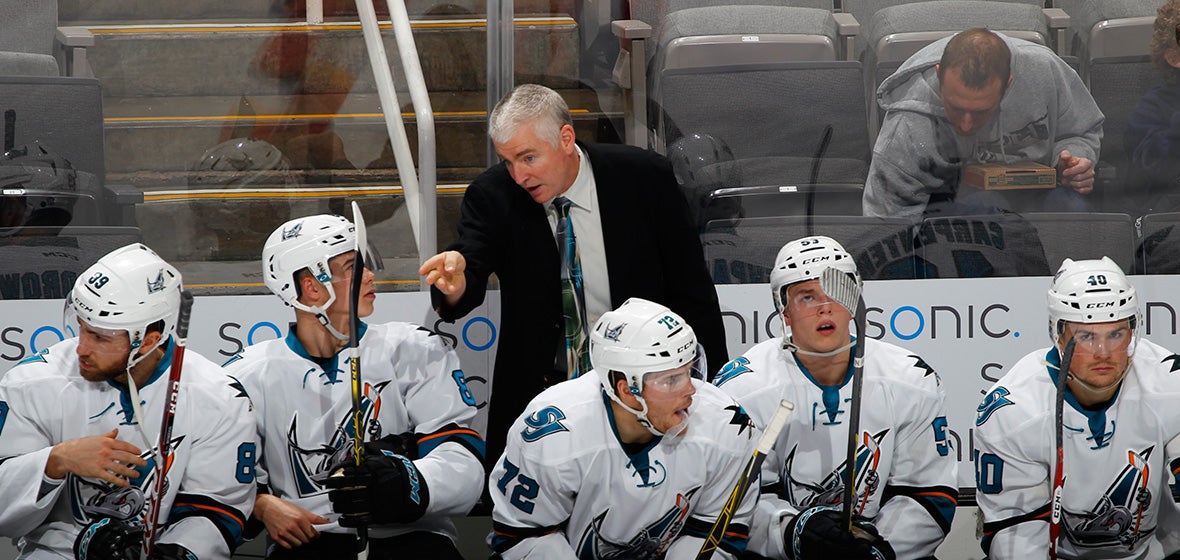 San Jose Barracuda Head Coach Roy Sommer To Be Honored Prior To Sharks Game On Saturday
Feb 12, 2016
SAN JOSE, CA - The San Jose Barracuda (@SJBarracuda) presented by Barracuda Networks (@barracuda) and the American Hockey League (@TheAHL) affiliate of the San Jose Sharks (@SanJoseSharks) announced today that the Sharks will honor Barracuda Head Coach Roy Sommer prior to the their game on Sat., Feb. 13 against the Arizona Coyotes at 7:30pm at SAP Center at San Jose.
Sommer, a native of Oakland, picked up his record-breaking 637th win on Wed., Feb. 10 at SAP Center in the Barracuda's 4-2 victory over the Ontario Reign, surpassing Fred "Bun" Cook (636 wins) for the most wins in AHL history.
American Hockey League President and CEO David Andrews, representatives from the Sharks hockey operations staff, and Sharks and Barracuda players will all take part of the ceremony to honor Coach Sommer before the opening faceoff between the Sharks and the Coyotes.
Now in his 18th season as the San Jose Sharks AHL affiliate's head coach, Sommer ranks first in the AHL in games coached (1,388) and victories (637). In the AHL, he has coached 120 players who have gone on to play in the NHL, including 95 who have spent a portion of their careers with the San Jose Sharks. In all, 20 players who have dressed for the San Jose Sharks this season played for Sommer in the AHL at one point in their career.
AHL COACHING WINS - ALL-TIME
| | | | | |
| --- | --- | --- | --- | --- |
| 1. Roy Sommer | 1998-current | 18 seasons | 1,388 GP | 637 WINS |
| 2. Fred "Bun Cook | 1937-56 | 19 seasons | 1,171 GP | 636 WINS |
| 3. Frank Mathers | 1956-85 | 18 seasons | 1,256 GP | 610 WINS |
| 4. John Paddock | 1981-2010 | 16 seasons | 1,125 GP | 589 WINS |
Back to All