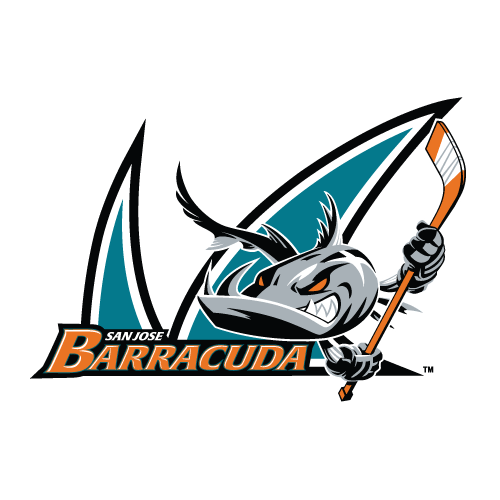 SAN JOSE SHARKS UNVEIL AMERICAN HOCKEY LEAGUE FRANCHISE AS SAN JOSE BARRACUDA
Sharks, Barracuda Networks Agree to Revolutionary Multi-Year Presenting Partnership
Apr 2, 2015
SAN JOSE – The San Jose Sharks (@SanJoseSharks) and Barracuda Networks (@barracuda), a leading provider of cloud-connected security and storage solutions, announced today that the Sharks American Hockey League (AHL) franchise, who will play their home games at SAP Center at San Jose starting in Oct. 2015, will be known as the SAN JOSE BARRACUDA (@sjbarracuda) with Barracuda Networks as the presenting sponsor.
In January, the AHL announced the creation of a new, Pacific Division of the AHL for the 2015-16 season, comprised of five National Hockey League-affiliated teams that will be based in California.
The Pacific Division will consist of teams based in Bakersfield (Edmonton Oilers), Ontario (Los Angeles Kings), San Diego (Anaheim Ducks), San Jose (San Jose Sharks) and Stockton (Calgary Flames).
"I cannot overstate the importance of having our prospects play in the same time zone as the parent club and available to our team without a cross-country flight," said General Manager Doug Wilson. "This is a tremendous opportunity for our organization to amplify our player development program by providing our staff access to these players on a daily basis. It's also a chance for our fans to watch the growth of these prospects as players and see the 'Future Sharks' in action."
"We are extremely excited about this innovative partnership with Barracuda Networks, a long-time supporter of our organization and a company who is aggressively active in the field of sports marketing," said Chief Operating Officer John Tortora. "We have loved the name Barracuda since the start of this process and it was a natural fit for us to approach Barracuda Networks in regards to this unique partnership. Most importantly, the relocation of our AHL franchise to the Bay Area will provide invaluable benefits that will enhance our process of developing future players for the San Jose Sharks – all in front of our loyal fans."
"At Barracuda, we take pride in our local communities and have a long-standing relationship with the Sharks organization," said Michael Perone, co-founder, EVP and CMO at Barracuda. "When we heard the AHL team was moving to the Bay Area, we immediately explored the opportunity to further our partnership with the Sharks to include the AHL franchise. It's exciting to integrate the Barracuda brand with the team in such an innovative way, and we look forward to a winning season with our new San Jose Barracuda."
"We are thrilled to add the San Jose Barracuda to the sports fabric of San Jose," said San Jose Mayor Sam Liccardo. "Hosting another hockey team at the SAP Center will bring more sports fans to our booming downtown and allow more people to take advantage of our excellent restaurants and nightlife."
Also released today were the team's primary logo, and the home, road and alternate sweaters for the 2015-16 season. The team's primary logo features a fierce, stick-wielding barracuda anchored on the Barracuda Networks iconic "teeth" while the home and road sweaters will mirror the style and color pallete of the parent Sharks team. Per AHL rules, the Barracuda will wear their white sweaters for home games and dark (teal) on the road.
In addition, an alternate "third" sweater was also released, which the team will wear periodically throughout the season. The alternate sweater is predominantly orange and features the swimming Barracuda with stick raised in front of the letters "SJ," representing the team's home in San Jose, the Capital of Silicon Valley.
The name Barracuda was among the names originally considered for the NHL expansion team granted to George and Gordon Gund in 1990. The organization ultimately selected "Sharks" as the name of the franchise.
A composite AHL schedule for the 2015-16 season is still being finalized and will be released when is it completed.
The American Hockey League is the top developmental professional hockey league on the planet, where more than 88% of current National Hockey League players have developed their skills prior to earning a spot on an NHL roster.
The Sharks have a rich history of developing players through their AHL team. The list of Sharks and former Sharks who have spent time in the American Hockey League is nearly endless, but includes players such as Joe Pavelski, Logan Couture, Brent Burns, Antti Niemi, Tommy Wingels, Justin Braun, Scott Hannan, Matt Nieto, Alex Stalock, and Matt Irwin, as well as former Sharks Ryane Clowe, Dan Boyle, Evgeni Nabokov, Jonathan Cheechoo, Marcel Goc, Christian Ehrhoff, Douglas Murray, Josh Gorges, Miikka Kiprusoff, Jason Demers…..and the list goes on.
Sharks Head Coach Todd McLellan captured the Calder Cup, the AHL Championship, as head coach of the Houston Aeros, where he served for four seasons (2001-2005). Sharks Associate Coach Larry Robinson played parts of two seasons with Nova Scotia before beginning his Hall of Fame NHL career.
A special, pre-sale season ticket opportunity was sent to existing Sharks Season Ticket Holders last week and season tickets to the general public go on sale TODAY at 10 a.m. at www.sjbarracuda.com or by phone at 408-977-4747. Season ticket packages start as low as $408, an average of $12 per game.
More information regarding San Jose's exciting new AHL franchise can be found at www.sjbarracuda.com.
About Barracuda Networks, Inc. (NYSE: CUDA)
Barracuda (NYSE: CUDA) provides cloud-connected security and storage solutions that simplify IT. These powerful, easy-to-use and affordable solutions are trusted by more than 150,000 organizations worldwide and are delivered in appliance, virtual appliance, cloud and hybrid deployments. Barracuda's customer-centric business model focuses on delivering high-value, subscription-based IT solutions that provide end-to-end network and data security. For additional information, please visit barracuda.com.
Back to All