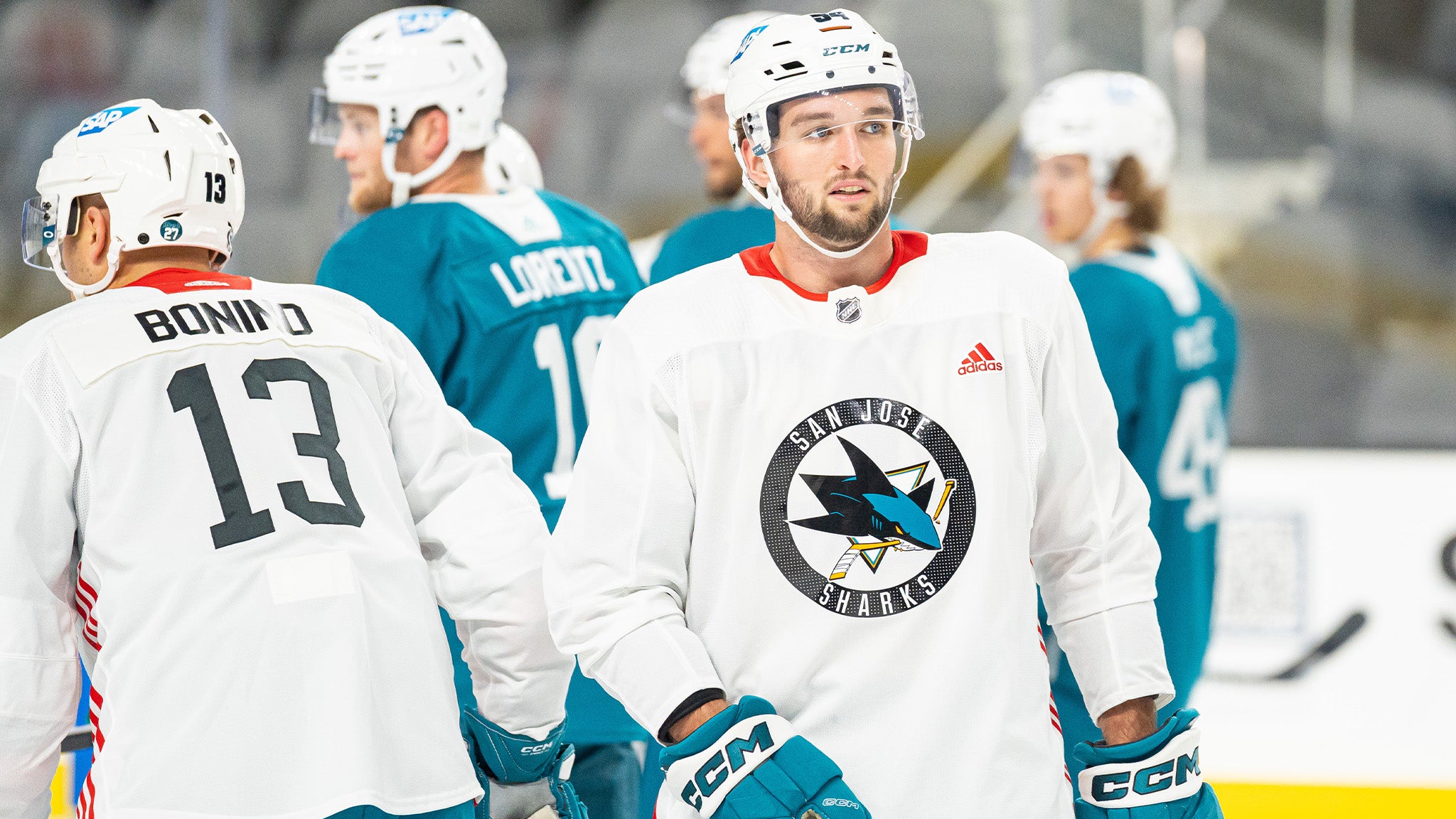 Scott Reedy - Sticking to His Game
Lizz Child
Sep 23, 2022
Scott Reedy is headed into the 2022-23 season ready to show that he is ready to take the next step in his hockey career.
As he came into rookie camp and the Rookie Faceoff, Reedy said it was exciting to be back with both the new faces and familiar ones.
With a big emphasis on playing as a single unit coming from the Barracuda coaching staff this season, Reedy feels the older guys are doing a good job of leading and setting the tone for the rookies. Likewise, he noted that the younger guys and rookies have done a good job bringing the energy and adapting to the style of play the organization is looking for.
During the Sharks rookie group's third game of the Rookie Faceoff, Reedy took to the ice sporting the captain's "C", and that kind of leadership responsibility is something Reedy was expecting would be asked be of him.
"It's expected, as a returning guy here, to step up, take a leadership role, and do my part. [That includes] taking some of the guys under my wing, and just showing the effort and showing the way for the younger guys,"
It isn't all just taking care of the youngsters, however, as the Sharks 2017 fourth-round draft pick says he may be messing with the newcomers a bit as well.
Wonder what he has gotten up to...
New Season, Same Reedy (but better...)
Now two months removed from development camp, Reedy said that he worked on his speed and on his hips, so they stay healthy throughout the season.
"It's obviously a long season and [I have] to be able to battle against any injuries that I had in the last season. For me, it's just [working on] strength in certain areas of my body and being ready to go by getting my body as ready as it could be for the season."
Following development camp, Barracuda assistant coach Kyle Hagel says Reedy was asked to work on his skating over the summer and it looks like he has.
Reedy saw a good mix of playing at both the AHL and NHL levels last season, appearing in 38 games with the Barracuda and another 35 with the Sharks. Mentioning that the biggest lesson he learned was just to play to his strengths of getting into the dirty areas and playing in front of the net.
However, Reedy said there is no plan to drastically change his game:
"Sticking to my game, is what led me to success last year. So, I'm going to look to do that, and then just add to my game where I can."
The idea of adding to his game is echoed what Barracuda head coach John McCarthy mentioned following the first Sharks game of the Rookie Faceoff where he said: "The more tools you have as a player, the more utility you have, and the more irreplaceable you are in the lineup"
While Reedy noted that simply sticking to his own game has been the best path to showing what he can do, that same message has been what the organization has been pushing through the first two camps. However, he knows what the organization is looking for, moving forward and being harder to play against is his goal as the season approaches.
"It sounds like there's a big emphasis on being hard to play against. So, I think just getting my nose in there, winning battles, and being heavy around the rink is an emphasis for me.
Now, amid training camp with the Sharks, Reedy is ready to compete for a spot on the club's roster.
"I'm just excited to be part of the competitiveness over there. Obviously, there are a lot of new faces and there's opportunity. Everyone's going to be looking to make this team and I'm excited to compete for a spot.
Of course, Reedy is not the only Sharks prospect looking to come in and make a case for himself at camp.
"A lot of these guys, you can see, have taken steps from where they were last year even. Guys like [Brandon Coe] had a good year and a bunch of those guys are developing really well. It's, it's good to see them take strides and grow up from last year."
For Sharks and Barracuda Fans
Yeah, I think they should obviously be excited about this new rink. There's a lot a lot of young energy and a lot a lot of new bodies in here. We're all excited to get it going and compete and put on show for you guys.
For those wondering, if Scott Reedy were a fruit, he said he would be an apple:
"You are what you eat, right? I have an apple every single day, so I'll go with that."
Back to All