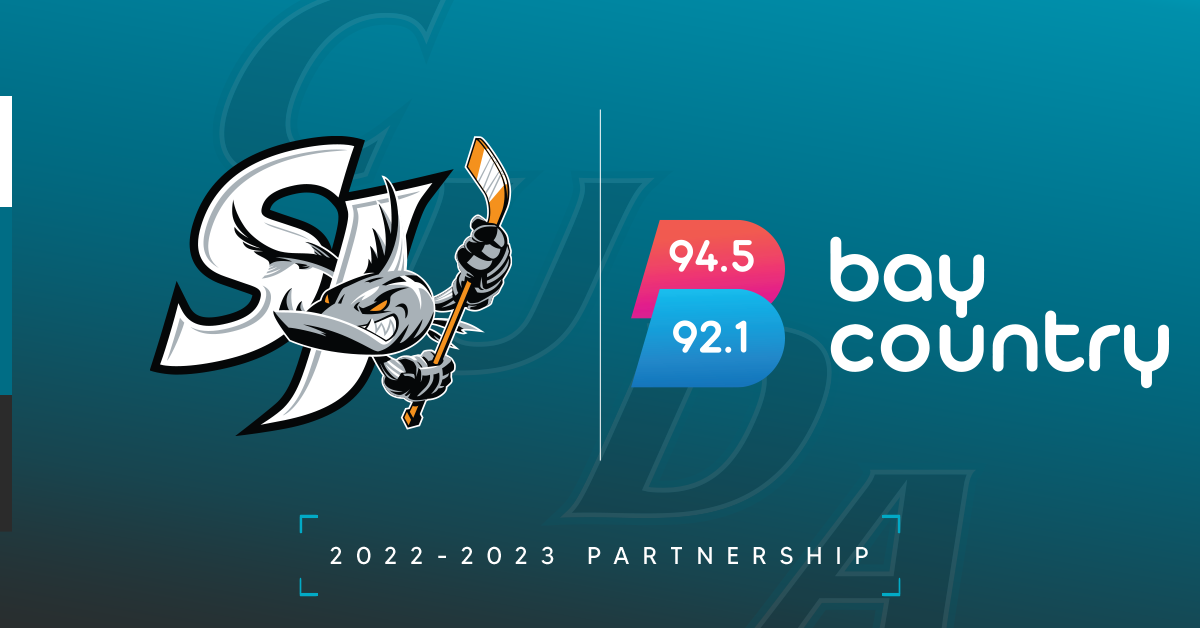 YEE-HAW, BARRACUDA TO PARTNER WITH BAY COUNTRY
Jul 12, 2022
San Jose, CA – The San Jose Barracuda (@SJBarracuda), top affiliate of the San Jose Sharks (@SanJoseSharks), are proud to announce they have partnered KBAY-FM 94.5 and KKDV-FM 92.1 (Bay Country) on a three-year marketing agreement beginning in the 2022-23 season.
"The Barracuda couldn't be happier to partner with Bay Country and continue to grow our footprint in the Bay Area and beyond," said Eric Grundfast (@EGrundfast), Barracuda Director of Business Operations. "New to the country airwaves in the Bay Area, we feel Bay Country is the perfect partner to grow both our brand and theirs and we can't wait to work together for years to come."
"Bay Country and the Barracuda are a perfect fit given the radio station's high amount of family listening and the team's focus on affordable family fun," said David Drutz, Vice President/Market Manager at Alpha Media San Jose. "Tech CU Arena will be a state-of-the-art facility and the AHL is high-level hockey, so it makes sense for Bay Country to become a key partner of the Barracuda."
Bay Country is the on-air home of Sharks in-arena host Emily Harlan (@EmilyBHarlan), weekdays 10 a.m.-2 p.m., and Sharks public address announcer Danny Miller, weeknights from 6-9 p.m.
Beginning in July, Miller or Harlan will conduct a weekly interview with a Barracuda coach, player, broadcaster, or front office member. The interview will be streamed live on Bay Country's Facebook page and subsequently shared on the station's social media channels and at baycountry.com throughout the regular season.
Bay Country will be the presenting partner for all Friday night Barracuda home games during the season which will feature $3 beers and a in-game Cuda Country singalong. In addition, Bay Country will be the presenting partner for Cuda Country Night, one of the team's biggest promotional nights of the season. Full details will be released at a later time.
About the Barracuda:
In 2022-23, the Barracuda will enter their eighth season playing in San Jose, following the American Hockey League's creation of a Pacific Division of the AHL, now consisting of nine teams – all of whom serve as the primary development affiliations for the National Hockey League teams: San Jose (Sharks), Abbotsford (Vancouver Canucks), Bakersfield (Edmonton Oilers), Coachella Valley (Seattle Kraken), Colorado (Colorado Avalanche), Ontario (Los Angeles Kings), San Diego (Anaheim Ducks), Calgary (Calgary Flames) and Tucson (Arizona Coyotes).
Many of the players on the Sharks roster have made their journey to the National Hockey League by playing and developing in the AHL, including Logan Couture, Alex Barabanov, Brent Burns, Sasha Chmelevski, Jonathan Dahlen, Jonah Gadjovich, Noah Gregor, Kevin Labanc, John Leonard, Timo Meier, Matt Nieto, Nikolai Knyzhov, Nicolas Meloche, Ryan Merkley, Radim Simek, and Scott Reedy.
About Tech CU Arena:
Tech CU Arena is a state-of-the-art, 4,200-seat arena located in San Jose. It is the home of San Jose Barracuda. Tech CU Arena is a partnership between Sharks Sports & Entertainment and Technology Credit Union, a full-service, federally insured not-for-profit credit union headquartered in the heart of San Jose. With more than 155,000 members, Tech CU provides a wide array of financial products and services, including personal banking, financial management, private banking, commercial lending, and business banking. Learn more at www.techcu.com.
#SJBarracuda
Back to All