FREQUENTLY ASKED QUESTIONS
Bag Policy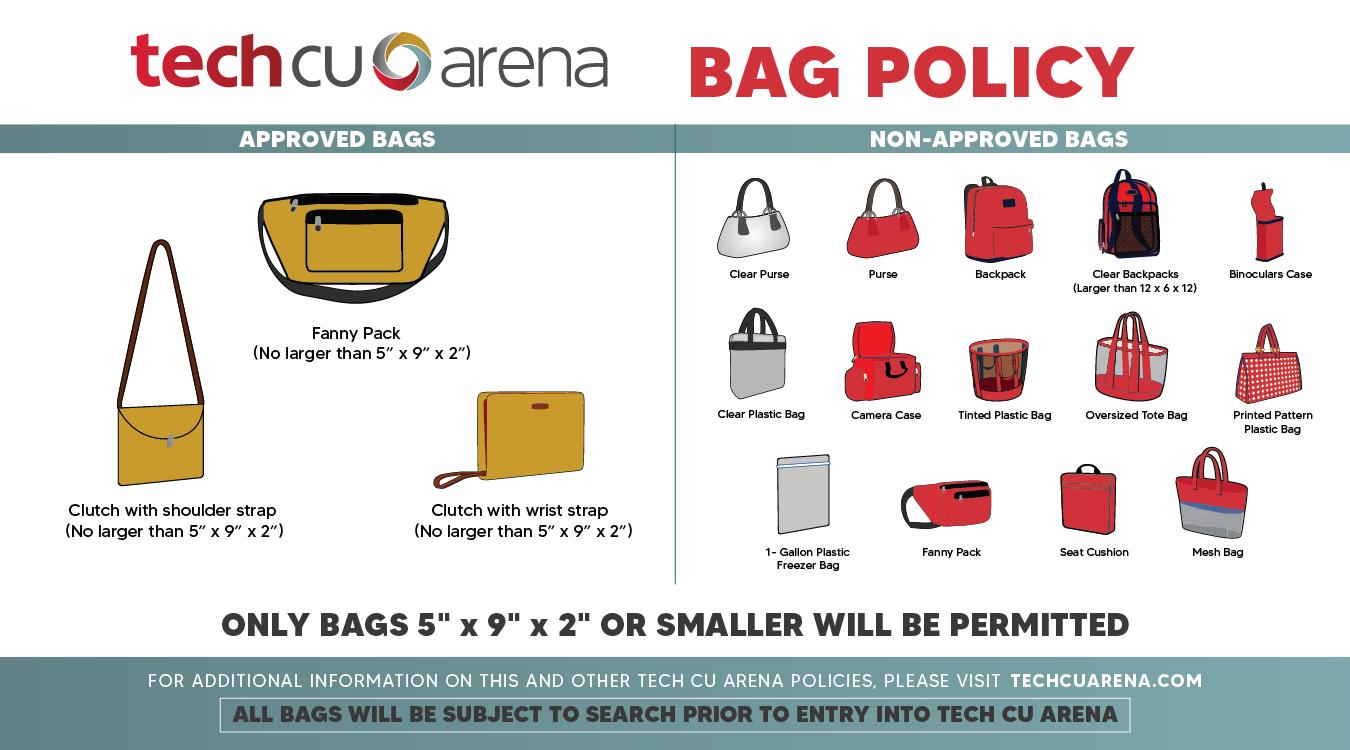 How to Redeem Vouchers
Game vouchers can be redeemed on the Sharks Account Manager online for games within the season they were purchased.
Never Waste a Ticket
Season Ticket Holders can take advantage of the Never Waste a Ticket Program. If you miss a game, your unused tickets can be used for a ticket credit to a future game the same season subject to availability. This policy allows you to redeem your unused tickets up to 48 hours prior to a game occurring by contacting your rep.
What Time do Doors Open?
Doors open 45 minutes before the puck drops for the public and 75 minutes before for VIP members.
Are there in and out privileges?
There are no in-and-out privileges during games. Once tickets are scanned, they can't be rescanned.
Accessing Season Ticket Holder Discount
All Season Ticket Holders can access their discount within the Sharks + SAPC App in their digital wallet. Select the "Benefits" drop-down menu to view the QR code. Additionally, any purchases made with a card added to your wallet will automatically apply the discount.
What Are Teal Tokens?
Teal Tokens are a credit earned by making purchases within your digital wallet in the Sharks + SAPC App at Sharks Sports and Entertainment locations. Purchases earn a 3% credit back in teal tokens that are exchanged at a 1:1 rate with the US dollar. These credits are available for the season in which you earn them and are viewable in the digital wallet.
How do I donate my Barracuda Tickets?

You can donate your tickets from "My Barracuda Account" for a tax write-off up to 3 ½ hours prior to game time. Tickets are donated to Operation Care and Comfort, an all-volunteer 501(c)(3) organization. For more information on Operation Care and Comfort, go to operationcareandcomfort.org.
Who owns my seats?

The San Jose Barracuda own and control all rights to seat locations for Barracuda home games. Purchasers of any Barracuda tickets obtain a license, in the form of a ticket, to use the seat location designated by the ticket. This license is granted on a game-by-game basis and is subject to all rules, regulations and policies relating to tickets as established by the San Jose Barracuda, SAP Center Management and the American Hockey League.
Click here for the terms and condtions.
Who is the Season Ticket Holder of Record?

Purchasers of season tickets and partial plans are assigned an account, and this account is generally maintained in the name of the purchaser. In the case of a business account, the purchaser must provide the San Jose Barracuda with the contact person for the account. The name under which the account is maintained (account name) on the season ticket database is the "season ticket holder of record".

A corporate account should be listed as the Jones Company, attention John Smith, in contrast to a personal account at a company, which would be listed as John Smith, the Jones Company. The season ticket holder is generally the person who pays for the tickets.

In the event a third party payment is accepted by the Barracuda, such acceptance shall not give the third party any renewal or post-season privileges, or cause or require the Barracuda to change the account name. The Barracuda will treat the account holder as the purchaser of season tickets in such circumstances, including for the purposes of season ticket renewal. Any excess funds or overpayment will be refunded only to the season ticket holder of record. The San Jose Barracuda reserve the right to make the final determination in the event of any dispute concerning who is the account holder or season ticket holder of record.
Can I change the name on my account or transfer my seats to another account?
Account names may not be changed and seats may not be transferred from one account to another. The San Jose Barracuda allow for an account to be changed in name if the account holder emails in with the request. If they want the seats to be split they can do that, but the new account goes back to a tenure of 0.
Can I exchange/upgrade my tickets?

Tickets may only be exchanged for physically impaired (WCA) seats for the date shown on the ticket at Window #10 on the day of the game starting two hours prior to game time. No other upgrades on Full Season tickets or mini plantickets are allowed. All physically impaired seat exchanges are subject to availability.
How do I purchase individual game tickets or additional Barracuda tickets?
You can purchase individual game tickets at the Tech CU Arena Ticket Office T 1500S 10th Street, San Jose, CA or online(Children 24 months and older must have ticket.)

Barracuda individual game tickets can also be purchased at Ticketmaster outlets, charge online at ticketmaster.com, or by phone at (800) 745-3000.
Tickets released for day-of-game sales will be available at the SAP Center Ticket Office as well as all Ticketmaster outlets, by phone and online.
On Barracuda weekday game dates, the Ticket Office is open from 9:30 am (Saturday/Sunday at noon) until the end of the second period. The advance ticket windows inside SAP Center at the Santa Clara Street entrance are open from the time the doors open until the end of the second period. The Ticket Office and inside ticket windows are also open at all other (non-hockey) events at SAP Center.
Is smoking allowed at Barracuda games?
In accordance with San Jose City Ordinances, Tech CU Arena is a smoke-free building. Smoking is prohibited in the building including restrooms, Calder's Bar + Refuge, and all premium-level seating. Anyone wishing to smoke will be able to step outside the designated exits during the games and re-enter Tech CU Arena with his/her Barracuda ticket.
Can I bring a camera to Barracuda games?

Taking still photographs for personal use is permitted at Tech CU Arena during Barracuda games utilizing lenses not exceeding 6" in length. Camera equipment must be unobtrusive, not block sight lines of other guests and not restrict the free movement of guests throughout the seating areas. No video or audio recorders are allowed.
What is your policy on alcohol?

No bottles, cans or alcoholic beverages may be brought into the building; all persons and packages are subject to inspection. Alcohol service on the Concourse Level is discontinued at 10 mins on the clock in the third period. Although The Calder's Bar & Refuge continues selling alcohol through the post-game, alcohol is not allowed into the Bowl after five minutes into the third period.
Can I bring a sign or banner to a game?

Signs and Banners are allowed within Tech CU Arena as long as they fall within the following guidelines:
- The sign/banner does not impair the view of other guests (20x30 inches).
- Information contained on sign/banner is not of a nature that could be construed as vulgar, offensive, graphic or outside of what the community standard would consider in "good taste".
- Hanging of signs/banners does not damage the building's walls, paint, railings, etc.
- Signs may not contain advertising.
What is considered appropriate behavior at a Barracuda game?

The Barracuda want to provide you with the highest quality entertainment experience at Tech CU Arena. We encourage enthusiasm but discourage bad language and any behavior which makes others uncomfortable. We reserve the right to expel guests whose behavior seriously affects the ability of others to enjoy the game. Continued behavior seriously affecting the ability of others to enjoy the game may result in a loss of season ticket renewal privileges. Please notify a Guest Services Attendant if you experience any difficulties. You may also use our Text Assist program by texting your seat location + message to 69050.
As a show of hockey etiquette, and as a courtesy to others, we ask that you wait until there is a stoppage of play before leaving or returning to your seat. Also, please refrain from leaning forward as it may obstruct the view of others seated behind you.
ADA Information

The Barracuda and Tech CU Arena management want to ensure that all fans have an equal opportunity to enjoy events at Tech CU Arena. Wheelchair and companion seating is available on a full-season, partial plan, and single-game basis throughout Tech CU Arena in a broad variety of prices and locations. When ordering accessible seating, it is important to indicate that you require accessible seating so that we can properly accommodate your needs.
Accessible seating for guests who require an ADA accommodation are available in various locations in the bowl and are all accessible by a wheelchair or walker.
Guests may purchase accessible seating in advance on a first-come, first-served basis by calling 407-999-5757 or by visiting Ticketmaster online at www.ticketmaster.com (or by calling Ticketmaster at 800-745-3000 to speak to a ticketing attendant that can assist you in accommodating your seating needs on a first-come, first serve basis). Guests may also purchase accessible seating by visiting the Tech CU Arena Ticket office located at the West and East entrances of Tech CU Arena located next to Sharks Ice at San Jose. The Tech CU Arena ticket office is open three hours prior to every home game and Tech CU Arena event.
Guests that attend an event with non-accessible seats and wish to sit in an accessible seat are accommodated on a first-come, first-served basis, based on availability, by visiting an Information Desk. Information Desks are located near the West Entrance at Section 101 or near the East Entrance by Fireball Cove.
Temporary Disabilities will be accommodated by providing the guest with accessible seating, subject to availability, at the closest available seating location in comparison to their original seat.
Beginning with the 2017-2018 season, wheelchair seating will be manifested with a companion space adjacent to it. In the event a guest requests additional companion spaces, the additional seats will also be adjacent, subject to availability. If adjacent seats are not available, they will be in the closest proximity, subject to availability. Please note that Personal Care Attendants (PCAs) are required to purchase a ticket for any/all venue games/events
For more information, please contact your Account Service Manager.