BARRACUDA EDGED BY GULLS 2-1
Nov 20, 2021
San Jose, Ca. - The San Jose Barracuda (5-6-1-0) fell into a 2-0 hole on Saturday afternoon against the San Diego Gulls (5-6-1-0), and despite scoring on the power-play in the second, couldn't manage to completely come back, falling 2-1 at the SAP Center.
· Scott Reedy has goals in his last three games after notching a power-play tally on Saturday and now leads team in goals (8), power-play goals (4) and co-leads the club in points (12).
· Jayden Halbgewachs had a power-play assist (6) and now paces the team in that department. He is also riding a three-game point (1+4=5) streak with five points in his last three outings. Halbgewachs has already surpassed his point and assist totals from last year in 13 fewer games.
· Nikolas Brouillard netted a goal and an assists in the first period and now has nine points (2+7=9) in 10 games played this season for the Gulls.
· Olle Erikkson Ek (2-3-1) got his second win of the season stopping 22 of 23 shots and is now 4-0 against the Barracuda in his career.
· Alexei Melnichuk (2-4-1) took the loss, allowing two goals on 24 shots.
· San Jose's special teams have still been on point with a 13th straight penalty kill and another power-play goal. The Barracuda sit at second in the league in power-play percentage at 25%.
The Barracuda return to action on Wed. Nov. 24 at 7:00 p.m. against the San Diego Gulls in San Diego and are back at home on Sat., Dec. 11 against the Abbotsford Canucks. All Saturday home games this season will feature $3 beers. For tickets go to SJBarracuda.com/tickets.
Join The Battery for the new home of the Barracuda, you can put down a $50 deposit on Ticketmaster (CLICK HERE). Submitting your deposit will secure your spot next season at the team's brand-new 4,200-seat arena which is set to open next Aug. Once you secure a membership, one of our team members will contact you.
Place your deposit by Dec. 12 and receive a complimentary two-day pass to the '22 NHL Rookie Faceoff which will be held at the Barracuda's future home. Contact us today at 408-999-5757 to speak to one of our representatives or email us at sales@sjbarracuda.com.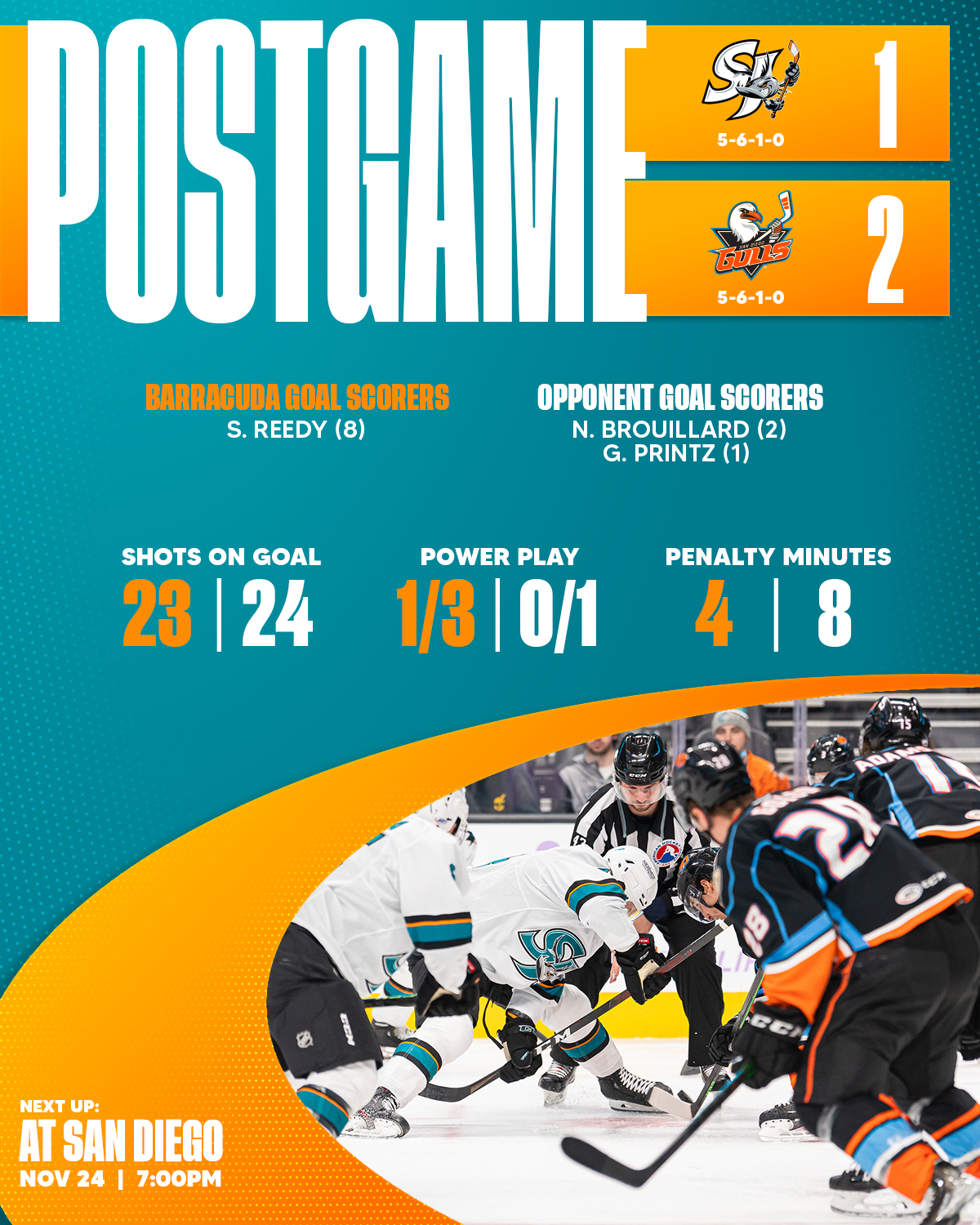 Back to All