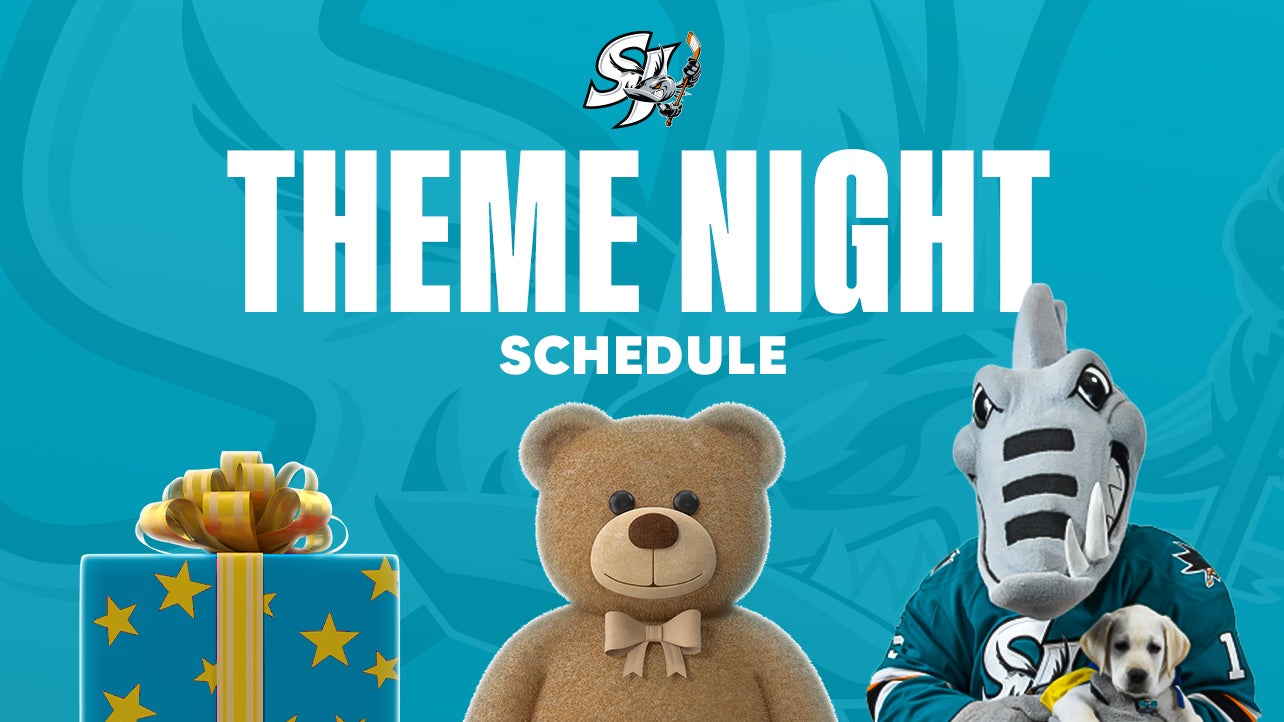 San Jose Barracuda Announce 2022-23 Theme Nights
Aug 22, 2022
SAN JOSE, CA, - The San Jose Barracuda announced today their upcoming theme nights for the 2022-23 season.
The San Jose Barracuda will play their first game on October 22nd in their brand new arena for their home opener the against Henderson Silver Knights. Giveaway items will be annouced at a later date.
2022-23 Theme Nights include:
Oct. 23 - Home Opener
Oct. 29 - Hoptober Fest
Oct. 29 - Veteran's Appreciation
Nov. 13 - Pucks & Paws Presented by Lagunitas
Nov. 10, Dec 9 , Jan 20, Mar 17 - College Nights
Dec. 3 - Teddy Bear Toss Presented by Kaiser Permanente
Dec. 9 - Top Gun Night
Dec. 11 - Healthcare Workers Appreciation Night
Dec. 27 - What You Didn't Get For the Holiday's
Dec. 31 - New Years Eve
Jan. 15 - Super Hero Night/Frenzy's Birthday
Jan. 20 - Cowboy/Country Night Presented by Bay Country
Feb. 4 - Kids Takeover Day/Youth Sports
Feb. 11 - Pink in the Rink Presented by Kaiser Permanente
Feb. 15 - Black History Night
Mar. 4 - 80's Night
Mar. 15 - Cuda Classroom Presented by Tech CU
Mar. 18 - HIFE
Mar. 25 - It's Electric Presented by IBEW
Mar. 26 - Pucks & Paws Presented by Sheep Dog Whiskey
Apr. 8 - Fan Appreciation Night/408 Night
For more information, please visit sjbarracuda.com/theme-nights for full details on each night as they are released.
2022 Rookie Faceoff
The Sharks are hosting the 2022 Rookie Faceoff at Tech CU Arena and Sharks Ice at San Jose from Sept. 16-19, 2022 and includes four teams from the Pacific Division (Anaheim, Los Angeles, San Jose and Vegas) and two from the Central Division (Arizona and Colorado). The tournament, which features the top prospects from each participating club, was held in Arizona in 2021, Anaheim in 2019 and Las Vegas in 2018. This past tournament featured several Sharks and Barracuda players including Jasper Weatherby, Ryan Merkley, Santeri Hatakka, and Artemi Kniazev. For more information about the Rookie Faceoff, tournament passes, scheduling and more, click here.
About Tech CU Arena
Tech CU Arena is a state-of-the-art, 4,200-seat arena located in San Jose. It is the home of San Jose Barracuda. Tech CU Arena is a partnership between Sharks Sports & Entertainment and Technology Credit Union, a full-service, federally insured not-for-profit credit union headquartered in the heart of San Jose. With more than 155,000 members, Tech CU provides a wide array of financial products and services, including personal banking, financial management, private banking, commercial lending, and business banking. Learn more at www.techcu.com.
#SJBarracuda
Back to All